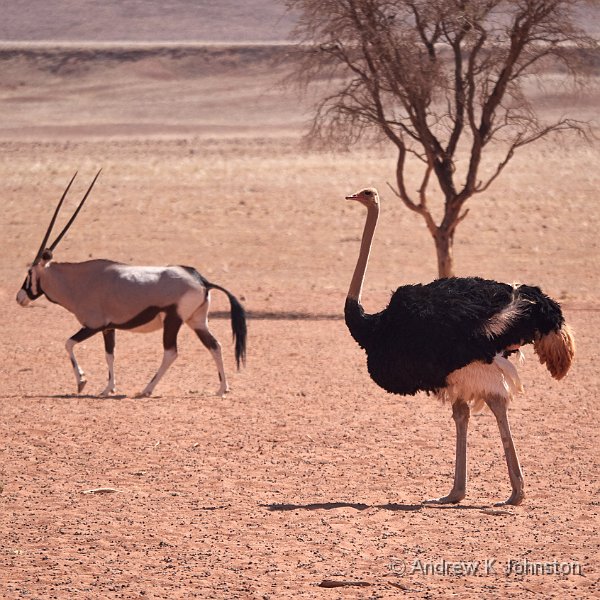 Camera: Panasonic DC-G9 | Date: 24-11-2018 09:48 | Resolution: 3386 x 3386 | ISO: 200 | Exp. bias: 0 EV | Exp. Time: 1/640s | Aperture: 4.5 | Focal Length: 150.0mm | Lens: LUMIX G VARIO 100-300/F4.0-5.6II
Lee agreed that we could all have a lie-in, so of course I woke up at 4, and was just getting back to sleep at 6 when the sun rose over the mountains and shone straight into my room. Bugger…
Today we moved on from Wolwedans to Lüderitz, a "Bavarian" town on the coast, which meant most of the day on the road. Southern Namibia is staggeringly empty: it's over 300km of well-graded road from Wolwedans to Aus, at the South-East corner of the Naukluft National Park, during which we passed two graders working on the road, but we think no other vehicles at all.
The new game to entertain myself is to build up playlists for our intended destination or attractions. We were promised a view of the wild horses at Aus, so I had to work to a "wild horse" theme. Obviously I started with Ride A Wild Horse by Dee Clark and Wild Horses by the Rolling Stones. I have two versions of Horse With No Name, by America and Paul Hardcastle / Direct Drive, both good and quite different, so they both got added. A search for "Wild" was fruitful, including Born to be Wild, Walk on the Wild Side and Wild Thing (I have the Trogg's original, but sadly not the Hendrix version at Monterrey), and then several on a theme: Reap the Wild Wind, Ride the Wild Wind, Wild is the Wind (two versions, Bowie, but also Nina Simone which doesn't really work in this playlist). Some of the others don't quite work, but I never miss a chance to listen to Play That Funky Music (Wild Cherry), even if it's cheating and slightly out of place.
Tomorrow it's a "Diamonds and Ghosts" playlist, as we're exploring the abandoned mining towns near Lüderitz.
We did get to see an ostrich on the way out of Wolwedans, but badly the horses at Aus were a bit of an anti-climax. We'll have another look on the way back on Monday.
Predictably as we got nearer the coast the African sun disappeared and the weather got a lot colder and greyer. I'm now sitting in my hotel room in Lüderitz, with major breakers rolling straight off the Atlantic and breaking on rocks a few feet from my bedroom window. What this presages for sleep tonight I'm not quite sure: it may be quite restful, or it may be bloody annoying. Time will tell.