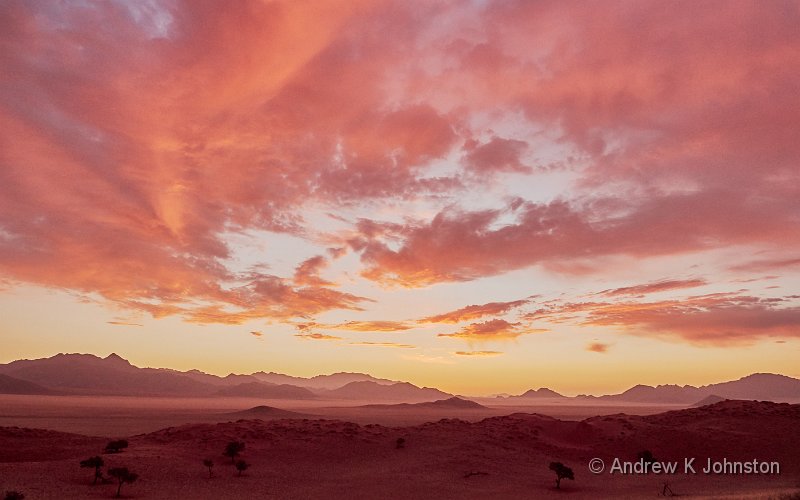 Camera: Panasonic DC-G9 | Date: 22-11-2018 19:32 | Resolution: 5593 x 3495 | ISO: 640 | Exp. bias: 0 EV | Exp. Time: 1/60s | Aperture: 8.0 | Focal Length: 12.0mm | Lens: LUMIX G VARIO 12-35/F2.8
My cunning plan to have a lie-in worked, and I had a great night's sleep, sorted myself out, and had a leisurely breakfast. Those who had chosen the "third 4.15 start in a row" option got back looking distinctly frazzled.
The drive to our next location was mercifully quite short, as we were getting onto progressively more tricky unsurfaced roads. We've come to a private game reserve called Wolwedans (Vol-Ver-Dance). This is one of about half a dozen private owned reserves which together make up the Namib-Rand Game Reserve, a privately owned game preservation area over 2,000 km2 in area, or a bit bigger than the area inside the M25. Wolwedans has a total of 20-30 rooms split over 3 or 4 camps, and is usually frequented by the likes of Brad and Angelina, although I suspect they fly/flew in rather than taking the long road route. I'm not quite sure how we've managed to get here for a reasonable fee, but very grateful that someone's made it work.
The topography is quite different to anything we've seen before, with a combination of large savannah areas, dunes, and quite substantial mountains particularly along the western edge where the reserve adjoins the Namib Desert National Park. While the terrain is obviously African, the "big skies" also put me in mind of Montana. So far we have had a very dramatic sunset and sunrise, and we're off to try and track some game down later.
The drive back after sunset last night was interesting, with the drivers of the two Land Rovers opting to drive with lights off, relying on their night sight. It was quite peaceful, and probably avoided spooking the game (which seems to be a guiding rule here), but I suspect I would have used more light.
The Namibian diet (or at least the tourist version) is taking its toll on my waistline. Last night we only got to dinner at 9 and then had 5 courses (although the first three were only a couple of mouthfuls each).  I couldn't get into my green shorts today, so I just hope the other ones come back safely from the laundry… I suspect it's going to be the apple and coffee diet for me when I get back.