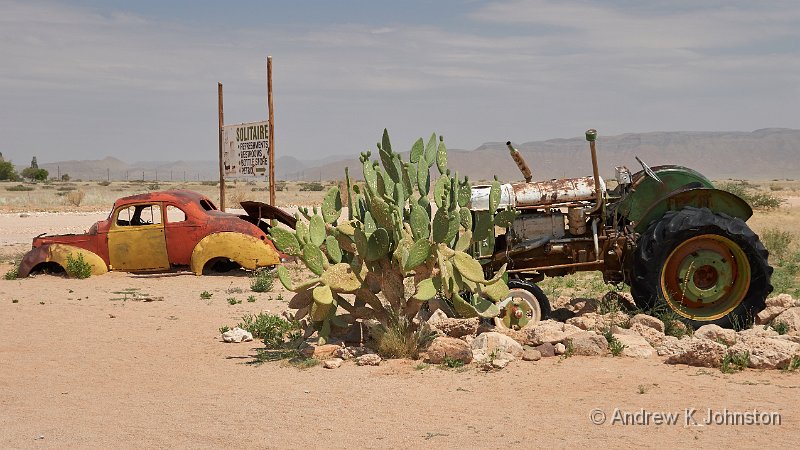 Camera: Panasonic DC-G9 | Date: 19-11-2018 14:40 | Resolution: 5098 x 2867 | ISO: 200 | Exp. bias: 0 EV | Exp. Time: 1/400s | Aperture: 8.0 | Focal Length: 28.0mm | Lens: LUMIX G VARIO 12-35/F2.8
Playlist for today:
On The Road Again : Canned Heat
Highway Star : Deep Purple
Bright Side of the Road : Van Morrison
Call Me The Breeze (I keep blowin' down the road) : Lynyrd Skynyrd
Goin' Down The Road (A Scottish Reggae Song) : Roy Wood
King of the Road : Roger Miller
Rockin' Down The Highway : Doobie Brothers
Roll On Down The Highway : Bachman Turner Overdrive
Rollin' and Tumblin' : Canned Heat
Davy's On The Road Again : Manfred Mann's Earth Band
The Long and Winding Road : The Beatles
Crossroads : Eric Clapton / Cream
Rollin' On : Uriah Heep
Road to Nowhere : Talking Heads
Road to Hell : Chris Rea
Highway to HellI : AC/DC
Did I mention it was going to be a long drive?
The south western quadrant of Namibia, an area comparable with Northern England, consists of the Namib Desert, and apart from a narrow corridor about 2/3 of the way down, plus a short stretch of coast, is all in one of two national parks. These are not crossed by road, and the few tracks into them are strictly controlled. The problem is that we start the day just north of the north western corner, and we need to get about halfway down the eastern edge. Therefore we have to circumnavigate the park on a Namibian "C" road. These are mainly unsurfaced, but wide and well graded. However speeds are inevitably slower than on tarmac, and there are periods where the ride is very rough, or it gets very dusty, or both.
We left civilisation at Walvis Bay, just south of Swapokmund, and the next habitation and services are over 200km away, at Solitaire, which appears to exist to service weary travellers at a key road junction. They do so in style, with a great collection of photogenic wrecked old cars, and their special, an excellent apple pie.
Another hour or so of driving brings us to Sesriem, gateway to the Sossusvlei area, and our base for the next few days. More than one night in one place? Luxury.
The Sossusvlei Dune Lodge is inside the park, which is good news for our forthcoming dawn starts. It's run on a surprisingly Germanic basis, with more rules and constraints than we've experienced elsewhere. Quite a few of the rules seem to relate to keeping pests out of the rooms: mosquitoes (fair enough, although it is the middle of the desert), and baboons (I wasn't expecting that).
Another early night: up just after 4 for the helicopter flight!
Addendum: 4am
Well, that blokes' baboon repellent seems to have worked. The mosquito net also proved an effective barrier, locking a single mosquito in bed with me all night. Bugger.
Sleep was OK for quality…