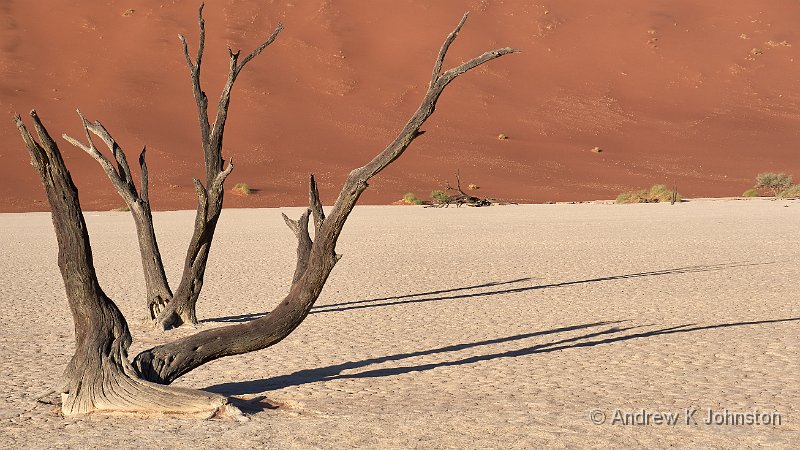 Camera: Panasonic DC-G9 | Date: 21-11-2018 07:06 | Resolution: 5224 x 2939 | ISO: 200 | Exp. bias: 0 EV | Exp. Time: 1/400s | Aperture: 6.3 | Focal Length: 38.0mm | Lens: LUMIX G VARIO 35-100/F2.8
Deadvlei is the home of the iconic Namibian desert image: a dead tree on a salt plain with an orange dune in the background. Despite the ubiquity of such images, in practice it's a single relatively small location, a bowl in the dunes maybe 500m x 200m. Hundreds of years ago it was a small oasis with fairly healthy vegetation, but the shifting dunes cut off its water supply, and the trees died. However in the dry, sterile conditions they have only decomposed very slowly, and are effectively now petrified. The other thing which is surprising is the salt pan – I was expecting a fairly thin even crust like you see in pictures of Bonneville, but instead it's a rocky, lumpy and very solid arrangement.
Our tour bus took us the 70km down the Sossusvlei valley to the end of the surfaced road, and we then took a 4×4 shuttle 4km through the sands to the jumping off point for several walks. It's about 1.1km to Deadvlei, a distance which I would normally knock off in about 12 minutes, but walking on the sand proves very difficult, and it took me over half an hour. My combination of small feet and, er, large frame means I just sink into the sand with every step, and it's suspiciously like wading through treacle.
Regardless, our timing was good and the walk fully justified by the scene. We had timed our arrival to be there just as the sun was reaching into the bowl, and we got great shots of both trees just emerging from the shadows, and in full light against the orange dunes and cloudless blue sky.
We were just packing up to go back when we got the first hint of what was coming, some lines of sand being whipped across the salt, which stung the legs as they hit them. We had a brief respite as we walked back, but by the time we arrived at the car park we were in the middle of a full-blown dust storm, so bad at times other vehicles were invisible except for their lights. We had a 4km drive in an open 4×4 through this, which was not pleasant. I'm not sure that it was ever actually on my list, but "sandstorm" can now be ticked off.
We had a relaxing middle of the day, but I was starting to feel a bit weary and couldn't face the walk into Deadvlei twice in one day, so at the end of the day while the rest of the group went back to Deadvlei John and I commandeered the 4×4 and went photographing dunes off the sand road. We got some decent shots, but it's a challenge as the salty ground and scrub vegetation make getting a neat foreground a real challenge. I made a few "rookie errors", including shots out of focus and then trapping my finger in the car door, and decided that I really need to not do three 4.15 starts in a row. Tomorrow I'm going to boycott the dawn start and have a lie in…