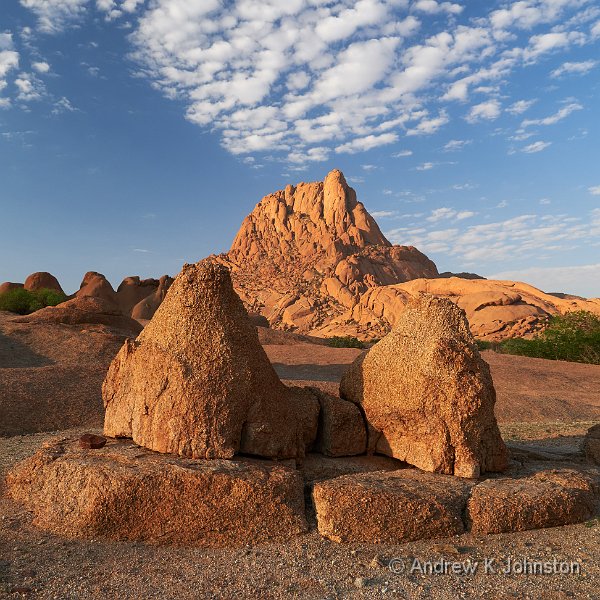 Camera: Panasonic DC-G9 | Date: 18-11-2018 07:10 | Resolution: 3888 x 3888 | ISO: 200 | Exp. bias: -33/100 EV | Exp. Time: 1/400s | Aperture: 5.6 | Focal Length: 12.0mm | Lens: LUMIX G VARIO 12-35/F2.8
5am call, quick cup of coffee and back in the big FWD for "leopard tracking". This was a dawn game drive with a tracker for the radio collars fitted to the park's other leopards. On the way we stopped to photograph more diverse ungulates (including wildebeest this time), baboons and some colourful birds.
We eventually tracked the other female down to a thicket about 100m in each direction, but she seemed to be moving. We drove back to the main track and I suddenly spotted a shadow moving at the thicket's edge. We positioned ourselves in time for her to cross the track just ahead of us. Another gorgeous animal, and this time we were definitely not the prey.
It's a six hour drive, including lunch, to Spitzkoppe. At least this allows me to variously catch up on sleep, writing this blog, and Angry Birds. Namibia's roads are well surfaced, empty, straight and very boring.
Packed lunch from the game reserve included an oryx wrap. There's a pattern emerging here…
Spitzkoppe is where a bunch of dramatic granite monoliths rise out of the otherwise flat desert, not unlike an African Monument Valley. We enjoyed the long drive in, promising ourselves some great late afternoon shooting, but by the time we got to the lodge and checked in the sun had disappeared behind clouds and the light was rather disappointing. Still, we can look forward to Dawn tomorrow.
Night 4 – Addendum
Ready for a good night's sleep?
Sensible bed-time? Check. Sensible start time tomorrow negotiated, as worst case I can just photograph the sunrise from bed? Check. Right amount of food and alcohol, not too much, not too little? Check. Room temperature wrangled from "furnace" to "comfortable"? Check. Pillow adjusted to right height with towel? Check.
Ready for a good night's sleep.
This is when I discover the major structural flaw in the design of the Spitzkoppe chalets. The base and sides are solid, but the roof is a weird double canvas affair. If it's meant to manage temperature it doesn't work. What it does do in any breath of wind over Beaufort Scale level 1 is whip, creak, groan, snap and pop vigorously. Something a bit stronger and it sounds like it's about to come off. At midnight I decide the latter would be a good thing as then I could finish the night under a clear and silent Namibian sky. Sadly it doesn't happen. At least that explains the earplugs in the soap dish.
The sleep deprivation experience continues.