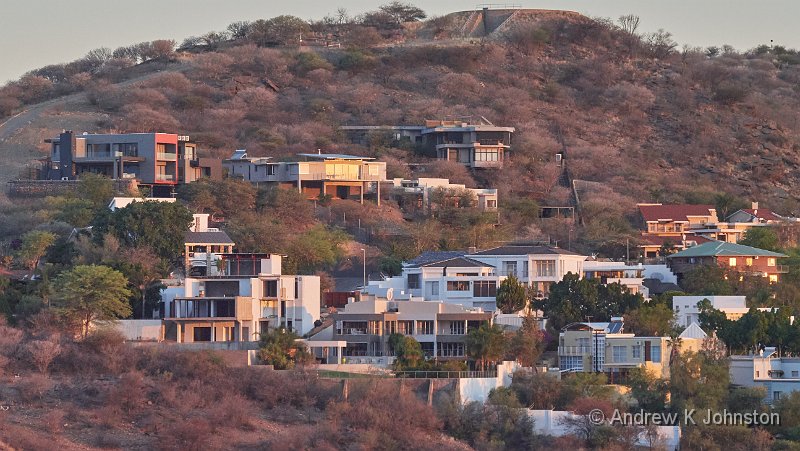 Camera: Panasonic DC-G9 | Date: 15-11-2018 18:58 | Resolution: 5176 x 2915 | ISO: 3200 | Exp. bias: -66/100 EV | Exp. Time: 1/160s | Aperture: 8.0 | Focal Length: 100.0mm | Lens: LUMIX G VARIO 100-300/F4.0-5.6II
I'm off on my photographic travels again, this time to Namibia. I'm travelling with Lee Frost of Photo Adventures, as I did to Cuba and Morocco, and it promises to be an interesting mix of landscape, wildlife and general travel shooting.
As is often the case, the first two days were largely taken up with travel, although I learned my lesson from the Myanmar trip and made sure we built in some rest time as well. I can never sleep on a plane, and going straight out shooting after a long journey leaves me fit to be tied…
The main flight from Heathrow to Johannesburg was smooth, although delayed by a change of plane which significantly cut into the relatively short transfer time at the far end, and saw us almost sprinting through the terminal. However in marked contrast to recent experiences with BA, Virgin did an efficient job of boarding (by row number), and Johannesburg Airport staff did an excellent job of triaging their queues, so we got the connecting flight.
The long-haul flight was on a Boeing 787 "Dreamliner", which is a real curates egg, good in parts. The new technology like the electronically dimming windows works brilliantly, but some well established technology appears to have been sacrificed. I couldn't on my own recline my seat, and the seat back pocket is now wholly inadequate. The tray table is a ridiculous design which slopes downwards and is made out of some shiny plastic – a young lady sitting near me got a glass of water in her lap halfway through dinner, and I'm aware she wasn't the only one. On a single flight! How on earth did that ever get through QA? Why industrial design has to be this odd zero sum game is a complete mystery. If it ain't broke…
Minor complaints aside the air transportation got us to Windhoek on time. It's a surprisingly long drive from the airport to the city, I reckon at least 25 miles, and that's another mystery, given that most of the intervening countryside is completely empty and flat as a pancake. I can only assume that the former owner of the airport land was on the "where should we put the airport" commission.
Windhoek, at least the bits visible from the main roads, is a spacious, modern city. For our first night we stayed at the Hotel Thule, which sits on a promontory overlooking the rest of the town. It's a very pleasant place to stay and also seems to be one of the "in" places for the locals to eat. A gentle afternoon and late start next morning at least started my batteries recharging.
Dinner is an oryx steak, slightly overcooked but otherwise delicious.
So far it's warm, but manageable during the day, but hot at night, not less than about 26°C.