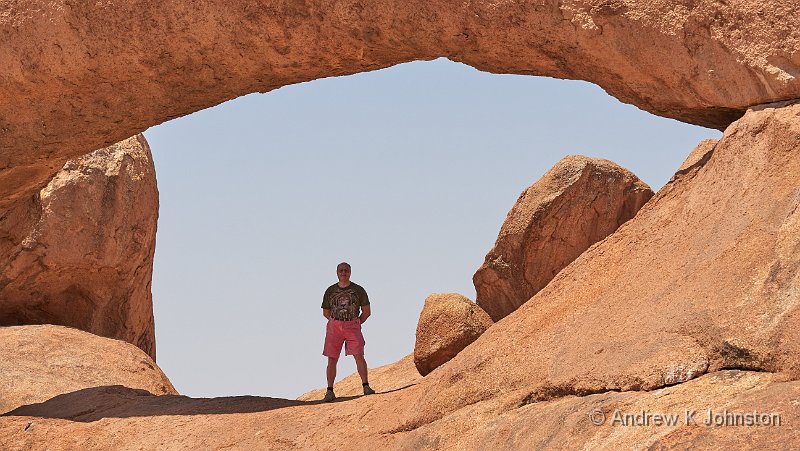 Camera: Panasonic DC-G9 | Date: 18-11-2018 11:05 | Resolution: 5184 x 2920 | ISO: 200 | Exp. bias: 0.33 EV | Exp. Time: 1/800s | Aperture: 5.6 | Focal Length: 64.0mm | Lens: LUMIX G VARIO 35-100/F2.8
Despite the distractions of the chalet's canvas roof I eventually got an OK night's sleep, and woke up ready for action. With the sun just rising we had a great pre-breakfast shoot at Spitzkoppe, with the rock formations beautifully lit by low sun, and just a few whispy white clouds breaking a clear blue sky.
The Spitzkoppe Lodge is quite new. The unresolved issues with the roofs are one challenge, breakfast turns out to be another. Lukewarm coffee is a recognisable drink. Lukewarm tea is a waste of ingredients and a challenge to the nausea response.
After breakfast we drove to the other side of the park and made a short climb up to a rock arch. I scrambled up to the arch itself and had my picture captured, just in time before the group of about 15 Germans arrived via a much gentler path from the other side…
We then headed for the coast, along an absolutely straight, flat and empty road. At the start we were at about 1000m, in baking sun with the sand punctuated by occasional clumps of scrubby grass. At the end we were at sea level, under a grey sky, much cooler, with the sand punctuated by occasional small mossy mounds.
Lunch was taken at our driver's favourite cafe in Hentis Bay, which appears to be a sort of African Clacton-on-Sea. The cafe is also recognised by another member of the group and clearly a known target. The food is tasty and the portions more than generous: I have something called a terrazini, a large flatbread stuffed with chicken, bacon and cheese and then toasted. Nigel goes for a burger, which turns out to be about the size of a discus.
After lunch we spend an interesting but surprisingly cold half hour photographing a shipwreck using very long exposures. It's very good practice for me to remember how to drive a camera in manual mode, something I rarely do.
It's a short drive down the coast to Swapokmund, a rather larger city, somewhat reminiscent of a European seaside town. This looks prosperous, but somewhat dead on a cold Sunday evening.
You can tell when a Namibian town developed by the signage and street names: somewhere which has developed since independence will be almost entirely English. Those which developed in the mid 20th century will use English and quite a lot of Afrikaans. Swapokmund obviously dates back to the 19th century and there's a lot of German – our hotel is just off Kaiser Willhelm Strasse.
Early night. Long drive tomorrow.