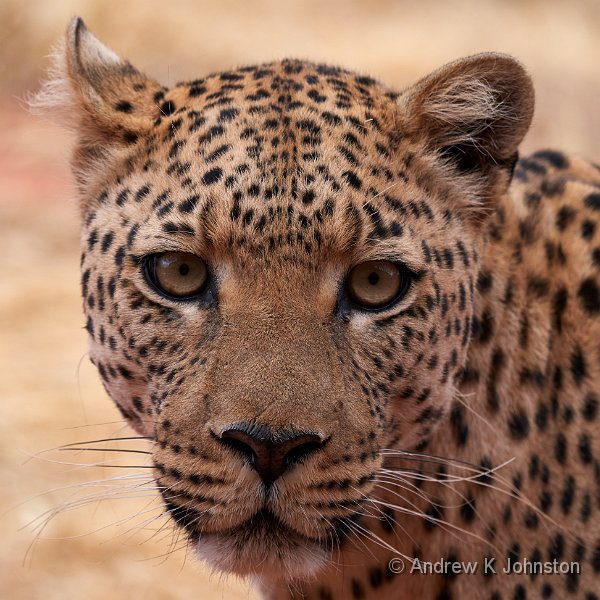 Camera: Panasonic DC-G9 | Date: 16-11-2018 17:44 | Resolution: 3888 x 3888 | ISO: 250 | Exp. bias: 0 EV | Exp. Time: 1/320s | Aperture: 5.6 | Focal Length: 150.0mm | Lens: LUMIX G VARIO 100-300/F4.0-5.6II
It's looking like we will spend a lot of time on the road. Once our transport arrived on day 3 we drove back out to the airport to collect the final member of the group, then back past our hotel in Windhoek, then another 3+ hours north to the Okonjima Nature Reserve. There we transferred immediately to a 14 seat open-air FWD and set out on our "game drive".
This was absolutely excellent. Within shouting distance of the lodge we had seen warthogs, giraffes, oryx, springbok, kudu and various other ungulates whose names I can't remember. Then we went into the cat enclosure.
First up were the cheetahs, which are apparently very used to humans and had also been recently fed, so were just lying around like large spotty moggies. They are smaller than I expected, but just as beautiful. It was great being able to photograph them at a range of 20m or less with no concerns on either side.
The leopard was a different matter. Okonjima have two adult females, both rescued from elsewhere, one of whom roams the main park with her two sons, but the other is kept separately as otherwise they would fight. The captive female has been trained to come to a hide from where she can be viewed at very close range. This is an unnerving process as she prowls up and down inspecting each visitor in turn, and would obviously love to get into the hide and choose from the menu if not prevented by an electric fence and mesh.
Maybe this was an encounter with a top predator who viewed us as potential prey. Maybe, but I have another theory. I think she has become a working animal with a reliable routine. All I could hear in my head was Joanna Lumley's voice saying "sorry darling, I have to go. I have another group of tourists to scare."
Whichever is the case, she is aptly named with the local translation of "beautiful". Well deserved.
Dinner was oryx carpaccio, followed by oryx sirloin, and a chocolate mousse. "Chocolate oryx", surely?