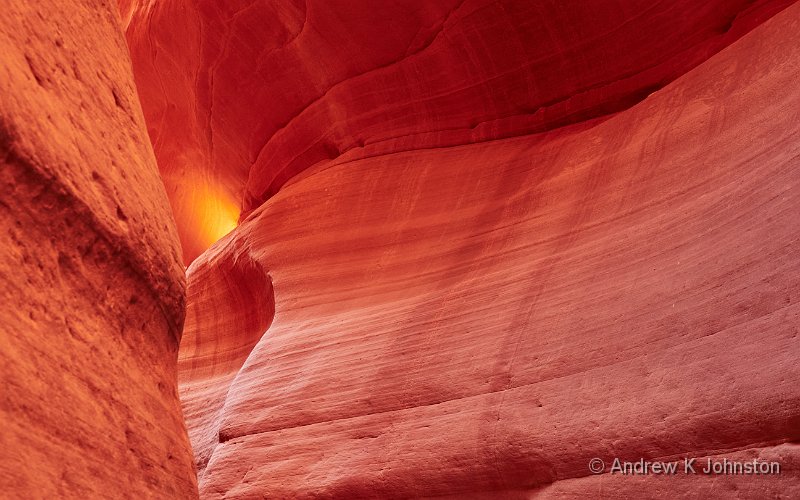 Camera: Panasonic DC-G9 | Date: 27-09-2023 09:28 | Resolution: 5184 x 3240 | ISO: 1600 | Exp. bias: 0 EV | Exp. Time: 1/10s | Aperture: 7.1 | Focal Length: 35.0mm | Location: Peekaboo Canyon Kanab | State/Province: Mount Carmel Junction, Kane, Uta | See map | Lens: LUMIX G VARIO 12-35/F2.8II
On Wednesday morning I had another planned trip, to Peekaboo Slot Canyon near Kanab. This has many similar features to Antelope Canyon, except that if you time it right it's completely empty, and a photographer can be left entirely to their own devices to play with equipment, settings and compositions as they wish.
The big challenge is that the drive (or hike) in is over a mile of deep, soft sand, not to be attempted in a normal road car regardless of pedigree, so most people use the services of a specialist tour company, and I was no exception, going with Dreamland Safaris, a local company in Kanab. Our guide, Orion, was both an excellent driver and a highly entertaining guide, although I don't think any of the guests managed to get a word in edgeways.
The canyon lived up to its reputation, with great reflected light through the early morning, and I came away very happy with the results.
Over lunch Frances and I realised that while Kanab and environs might fill four days, we didn't want to return after Bryce Canyon, and felt a replan coming on, to make a different use of our last couple of days. Replan aside we had a quiet afternoon, fitting in a drive to the somewhat disappointing Johnson Canyon and some shopping before an early dinner.
Dinner itself was hilarious, including educating the waiter how to make an Irish coffee, and threatening him and the bartender with broken legs if they attempted to repeat the excess of their compatriot at Glacier National Park and add a nice bit of Crème de Menthe for a splash of Kelly Green.
Tomorrow I would be back to Dreamland Safaris and my trip to White Pocket!