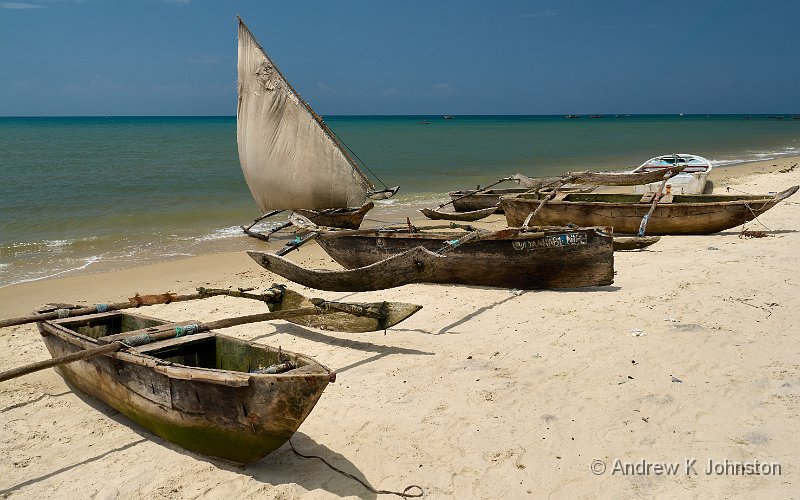 Camera: Panasonic DC-G9M2 | Date: 06-12-2023 09:08 | Resolution: 5911 x 3694 | ISO: 100 | Exp. bias: 0 EV | Exp. Time: 1/400s | Aperture: 7.1 | Focal Length: 13.0mm (~27.0mm) | Location: BuBuBu, Kikaangoni | State/Province: Kikaangoni, Zanzibar Urban/West | See map | Lens: LUMIX G VARIO 12-35/F2.8II
I eschewed the opportunity for a 4.30 start. Instead I took advantage of the lack of an arms race between the various religious factions regarding who can wake up whom earlier, and had a bit of a lie-in. After a more gentle awakening I wandered down to the equally beautify and empty beach below the Fun Beach Hotel, and got some nice early morning shots although the cloud cover prevented a full sunrise.
On my way back I stopped at the bar and managed to get a very tasty latte. However it appears that "make coffee" and "operate till" are different modules in the hotel's training course, and a succession of four bar and support staff were unable to print out a bill for me to sign. Never mind, it was still a very nice coffee.
After breakfast we packed up and set out on the next leg of the tour which would take us from near the south east tip to right at the northern one. Our first stop was the splendidly-named Bububu. Apparently this dates back to the building of Zanzibar's one railway in 1905. The locals who lived near the northern terminus vocalised the sound of the steam trains as "Bu Bu Bu" and the name stuck.
When Lee scouted out this trip in 2019 Bububu was working hard as the temporary main fish market, the large market in Stonetown being closed for extensive modernisation. In the 4-year interim that business has moved back to the new buildings at Malindi, and Bububu has reverted to a quiet stretch of beach hosting a handful of fishing boats and not much else. We spent a pleasant half an hour wandering along the sand, but it was not quite as billed.
Lunch was taken at a large, spacious, well-equipped but almost empty hotel a mile up the road. It's not obvious what their target market is: they are too far out to be genuinely convenient for Stonetown 7 miles away, and they don't have the extensive beaches and other tourist services of the Jambiani and Nungwi areas. Maybe there is a market for an out of town convention centre, but it's not obvious. The arrival of 10 hungry and thirsty photographers obviously threw them completely and they couldn't even supply beer, but we did get a tasty if slightly overpriced vegetable curry to keep the wolf from the door.
The next stop was Mkokotoni, on the Northwestern coast. This had distinctly more going on, as it's the terminus for the ferries connecting the adjacent small islands. Traffic was high, apparently because a local character had died and a large number of locals had been to the funeral on the island. The sea floor is very flat, which leads to an interesting loading and unloading process. The ferry brings the people and goods to within about 100m of the water's edge, at which point they transfer to a smaller boat pushed through the water by another ferryman. About 10m out they disembark and wade through the remainder until it's dry enough to put shoes on.
We were also treated to the spectacle of a boat being burned. Less dramatic than this sounds, it's the standard way to prevent too much algal build-up on the wooden hulls. A few times a year they haul the boat out, set a fire of coconut matting around it and burn off all the algae before re-sealing the wood.
Back in the bus we headed the short distance to our final stop, the Z Hotel in Nungwi. It's a smart hotel, but the beach is very busy with both six-legged and two-legged pests – you can hardly move for hawkers. I have to admit I was expecting something more like Jambiani: open and largely unoccupied, but apparently not. Fingers crossed that it works.