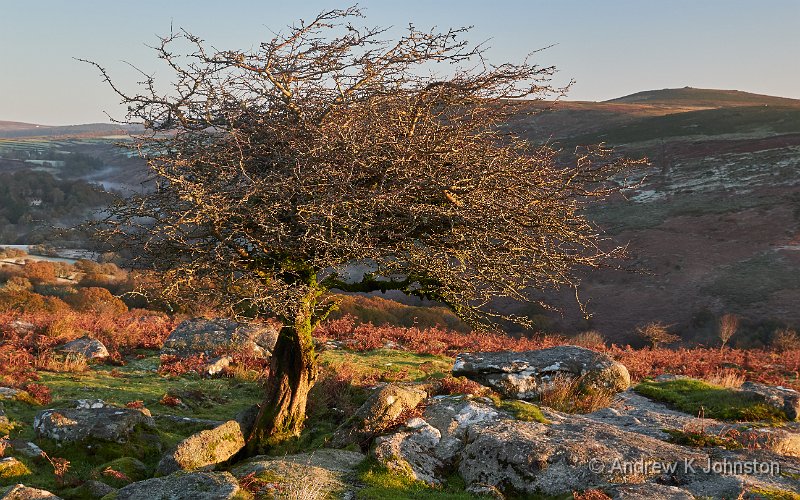 Camera: Panasonic DC-G9 | Date: 04-11-2020 07:35 | Resolution: 5182 x 3239 | ISO: 640 | Exp. bias: -33/100 EV | Exp. Time: 1/60s | Aperture: 7.1 | Focal Length: 25.0mm | Location: Combestone Tor | State/Province: Holne, Devon, England | See map | Lens: LUMIX G VARIO 12-35/F2.8
We awoke on day 2 of the Dartmoor trip to a changed world at multiple levels: news from the US election of Trump's likely demise, and much crisper, drier weather over Dartmoor. Lee decided to return to Combestone Tor for the pre-breakfast shoot, so we could see it literally in a different light, and it was scarcely credible as the same location. We had the sun rising clear in a pale orange sky, the valleys below the tor filled with frosty fields and wisps of fog, and glorious red light on the stones as the sunlight reached them. Almost too many things to point a camera at.
After breakfast we took a short drive, and slightly longer walk, to the Windy Post, an old cross next to a small weir which rewards a low viewpoint and long exposures.
After that it was back to the hotel, which was threatening to lock the doors and barrier the car park at 4pm, to form a long convoy for the next part of the journey, to Saddle Tor. At the top of the Tor we were delighted by having a beautiful Dartmoor pony pose for us in front of the stones, and lower down we got shots of the fascinating Holywell rocks. I ate my lunch behind the rocks, with almost no-one in view for miles around, yet all the car parks were absolutely packed, with a very large number of other people having the same idea of enjoying the last good day on Dartmoor before lockdown.
The day's last location was Bowerman's Nose, a great outcrop which really does resemble a head and shoulders bust. The drive out was really hairy, as by then dark had fallen and at one point I had to negotiate a stretch of road at least 100m long between stone banks closer together than the walls of my garage, which set both front sensors on the car tweeting continuously. Fortunately I got out without a scrape, and in another stroke of fortune Gurinder had discovered that the Travelodge on the M5 was still taking overnight bookings for the Wednesday night, so at least I could defer the long drive back home to a very pleasant Thursday morning. Mission accomplished.