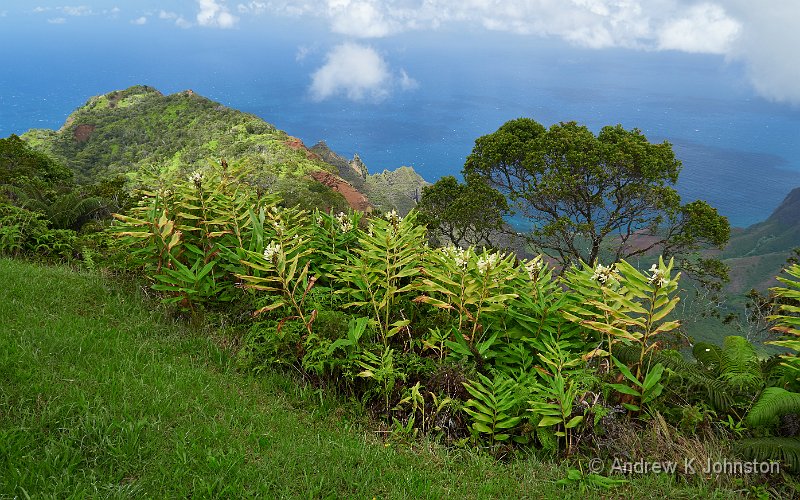 Camera: Panasonic DC-G9 | Date: 02-10-2019 12:35 | Resolution: 5583 x 3489 | ISO: 200 | Exp. bias: -33/100 EV | Exp. Time: 1/160s | Aperture: 7.1 | Focal Length: 12.0mm | Location: Waimea Canyon | State/Province: Haena, Kauai, Hawaii | See map | Lens: LUMIX G VARIO 12-35/F2.8
Sunbathing, service, costs and chickens!
Hawaii is a great place to visit, but based on our recent experience some things may come as a surprise to European visitors, used to comparable destinations in Europe, the Caribbean or mainland USA. For those planning a trip, here's what you really need to know.
The TL;DR version:
Sunbathing is not a thing
Housekeeping is not a thing
Service is not a thing, especially in the evening
Opening hours are only just a thing
Coffee shops are almost not a thing
Public restrooms are not a thing
Chickens are everywhere but the roosters can't tell the time
Bedding is wildly inappropriate
It's frighteningly, eye-wateringly expensive, and accommodation is a complete rip-off
However, the scenery is great, and Americans do organised tours very, very well
Sunbathing is Not a Thing
Here's a pattern which should be familiar to travellers to Southern Europe, North Africa and the Caribbean (and indeed most sunny parts of the world which welcome tourists). On a quiet day, or maybe after a busy day's exploring, you go down to the beach or pool. You lie on a sunbed and slather on the sunscreen. Some helpful lad or lass brings you a nice cocktail. If you're not at your hotel maybe the deal is that you pay a local a few dollars for the use of the sunbed, and as an added incentive he sells a few more drinks at his bar. Win-win.
Not on Hawaii, or at least not anywhere we managed to go. The concept of "lying in the sun" appears to be an almost alien one, and the idea of practical support for this activity almost taboo. Some beaches have a car park and a changing/toilet block, but that's about it. Nowhere did we see sunbed rentals or a beach bar or similar. You are welcome to lie on the beach on a towel and bring your own supplies in a cooler, but that requires rather more specific provision than most people doing a fly-drive will have with them. Now it's possible that this is to try and keep the beaches "unspoilt", which would be fair enough, but then you'd expect to see an alternative at the hotels. Only one hotel in our entire three weeks had sunbeds by a pool, and that area was plastered with signs forbidding almost all enjoyable activities, including the possession of alcoholic drinks anywhere nearby. Of the rest, a couple had chairs which could be moved into a relaxing corner in the sun, most didn't even get that far.
Mainland USA doesn't have this problem. The two California hotels at each end of our most recent trip, including Handlery's within 100m of Union Square in San Francisco, both provided for a quiet hour in the sun. We've even managed to lie by the pool in Idaho, Montana and Vermont – under glass, admittedly, but that's a good solution in colder climes. It's just something which decent mid-range hotels do. Why the Hawaiians don't provide for you to quietly lie in their sunshine is a mystery.
Housekeeping is Not a Thing
Most hotels in civilised countries service your room on a daily basis, making up the bed, changing at least the linen you've left in the bath-tub, replenishing supplies. This is not a regular provision in Hawaii. There were a couple of honourable exceptions, mainly in the most expensive properties, but as a rule the patterns were either "every three days" (= "once in your stay if you're lucky") or even in one case "at the end of your stay" (= "None, but we can't write that down on booking.com and we probably can't get away without changing the sheets and towels for the next guests"). A couple of times we put in requests for some specific assistance with bedding and were completely ignored.
Service is Not a Thing, Especially in the Evening. Opening Hours Are Only Just a Thing
The lack of hotel housekeeping is one symptom of a more general challenge. A lot of Hawaiians seem to be unable to reconcile the fact that tourism is their major industry with the fact that this means operating shops, bars and so on for a reasonable number of hours in which tourists may wish to purchase what's on offer, and then cheerfully providing service to the punters. It's not so bad in restaurants where the serving staff rely on tips, but elsewhere it can be a real challenge to get any help. We stayed at one expensive lodge where there were no dedicated hotel staff – you had to ask in the shop and restaurant and see if anyone could help you. At the "No housekeeping ever" "boutique hotel" the woman who gave us our keys and showed us to the room literally ran in case we had questions or needed help. Another hotel staffed the office so rarely that we thought the manager was just another guest looking for help. Their check-out arrangements were positively Kafka-esque, with a large notice in the room demanding check-out before 11am, but an office which did not open until after that time. Good luck if something needed sorting out on the bill.
Opening hours on Maui and Kauai are so arcane and limited they make a joke of it. We found shops which didn't open until 11am but were shut again by the end of the afternoon. On our drive down Haleakala we found a wonderful coffee shop but arrived only 10 minutes before it closed – at 2pm. On our day in Hana we failed: that coffee shop had turned off its coffee machine at 3pm, and only sold banana bread by the whole loaf, not the slice. Paia may be a busy tourist centre, but try getting a coffee or a beer after 8pm…
Coffee Shops Are Almost Not a Thing
Even if you're there in core hours (11am – 2pm, any day except Sunday, Monday, Tuesday, Wednesday, Thursday, Friday and Saturday ), it can be tricky to find a good latte in some centres. Even some quite substantial shopping streets appear not to have a coffee shop, or if they do, it's well hidden and probably shut! Maybe it's the lower popularity of hot drinks in the warm climate, but where you do find a place with a coffee machine and an open door they are usually doing a steady trade.
At the same time, sparkling water seems to be a bit of a novelty, and we found several locations where this wasn't an option. That's even more of a mystery. You shouldn't go thirsty on Hawaii, but some compromise may be required!
Public Restrooms Are Not a Thing
Hawaii can be a challenging place to get caught short. It's not so bad if you're somewhere run by the Parks Service, or a shopping mall or larger restaurant, but most shops and smaller cafés have a sign in the door "No Public Restroom". This doesn't just mean "customers only", it can mean "no customer restroom at all", even in medium-sized restaurants, which elsewhere in the world would by law have to provide a customer WC. Keep your fingers, and your legs, crossed!
Chickens, Chickens Everywhere
Wherever I travel there are species which have adapted to living off the scraps of human activity: pigeons, the little brown birds on Barbados, the feral dogs of Bhutan. In Hawaii it's feral chickens. If you're eating outside you're unlikely to miss one or two padding around, and it's rare that you can't hear a cockerel. The islanders welcome them as they also feed on insects which would otherwise be a problem, and the chickens are effectively protected.
This would be OK if their timekeeping followed acceptable norms, with roosters announcing the dawn but keeping schtum the rest of the time. Unfortunately they don't, frequently crowing all the way through night and day. Added to inappropriate bedding and noisy air-conditioning this contributes to the likelihood of disturbed sleep.
After watching a few we can confirm that Hawaiian chickens have adapted to modern life and have got bloody good at crossing roads. It's just a shame they can't tell the time.
Wildly Inappropriate Bedding
Hawaii is a bunch of tropical islands. Unless you're right at the top of Mauna Kea or Heleakala, the temperature usually reaches 30°C in the day, and rarely dips below 20°C at night. It's therefore puzzling to find that the standard bedding provision is a nice warm 15 Tog duvet! The problem with this is that it may be just cold enough you need something, but a duvet is massive overkill. A couple of times we tried getting said duvet downgraded to "just a sheet, please", but without success. Eventually we just got into the habit of extracting the duvet from its cover and using the latter on its own. At least with only intermittent housekeeping we weren't having to do this every day…
It's Frighteningly, Eye-Wateringly Expensive
Hawaii is scarily expensive. I accept that it costs a fair amount to get there in the first place, as you're travelling halfway around the world. Also I know that all holiday costs for British visitors have been inflated by about 20-25% after the 2016 Brexit vote, and I have to discount that. However even comparing like for like Hawaii is just so much more expensive.
The entry level cost of accommodation in 2019 seems to be about $180-$200 a night. For that you get very little: a small room, minimal service, no food, maybe a coffee machine and free toiletries, maybe not. (One of the hotels actually listed "toilet paper" as a specific provision, I kid you not.) There won't be any sort of a view or casual/communal seating area. If you are on an upper floor you will be personally manhandling your luggage up and down stairs. If you want something a bit better the price rises quite steeply – the nicer lodges we stayed in were all between $250 and $300 a night. To put that in perspective, we have four other experiences of spending $180 or less per night on accommodation in the last year:
Copenhagen is a notoriously expensive city, but this July about $180 per night got us a very nice hotel about 100m from the tourist hub of Nyhavn, and within a short walk of most of Copenhagen's other attractions. The hotel had very helpful 24 hour front desk staff, a high quality hot and cold breakfast included in the price, an outdoor bar overlooking the harbour for when the sun was out and an indoor bar for when it wasn't. We had a small but fully appointed room on the 5th floor overlooking Sankt Annae Platz, with a view of the beautiful old port authority buildings.
The hotel in Pacifica (just outside San Francisco) on the way back from Hawaii cost about $170 per night. That included breakfast, a sea view, a large room with jacuzzi, and a front desk who cheerfully booked us in, including a room change to avoid too many stairs, at 11pm.
We paid about $180 per night to stay in a Norfolk mansion house for my friend's 60th birthday. As well as the elegant building set in extensive and beautiful gardens, the cost included breakfast, snacks and some booze!
The Heure Bleue Palais in Essaouira, Morocco was easily 5 star, excellent service – nothing too much trouble, great food with a wonderful cooked breakfast included in the price, top location in the walls of the old city with a view of the whole town from the roof-top pool. It cost about $145 per night.
At the other end of the scale the better accommodations in Hawaii could be compared in quality and provision to something like the Peaks of Otter Lodge at which we stayed on our 2014 trip to the USA South-East. That was probably the most expensive accommodation of that trip, at about $140 per night.
The Hawaii accommodation costs do seem to have escalated dramatically in the last couple of years. We had originally booked our trip in 2016 and had to cancel at short notice, but re-instated it this year with almost exactly the same itinerary. That means I can directly compare 2016 and 2019 prices. One example, the Kula Lodge cost less than $210 per night in 2016, but more than $290 this year. The Hana Kai had also increased by about $80 per night in the same period. These increases of 35% or more are massively higher than inflation. It's not clear whether this is a continuing trend, or there's a common one-off cause.
Food and drink are also much more expensive than elsewhere. Outside the very centre of San Francisco, the going rate for a beer is about $4. Take into account the fact that a US pint is about 20% smaller than a UK one, and prices are comparable to home. However in Hawaii we were paying up to $8 or $9 for a pint of beer! It's the same story for a latte – about $4 most places in the UK or California, up to twice that in Hawaii.
On a Positive Note…
This might all sound a bit negative, and I don't want to put readers off going to Hawaii, but just help to set realistic expectations. We enjoyed our trip, but it was impossible to not feel somewhat ripped off by the poor service and high costs. If we'd been primed properly on what to expect we might have ridden more easily over the challenges, and enjoyed the good bits even more.
The scenery is great, especially Haleakala on Maui and Waimea Canyon on Kauai. We saw everything from lush greenery to a volcanic "moonscape" so convincing it's where they trained the Apollo astronauts. Despite the dire warnings you read in some places even the Road to Hana is perfectly straightforward to drive over its entire length. Hawaii is a feast for the eyes.
The various organised tours and trips all worked very well. Each had a friendly, knowledgeable and helpful guide/driver/pilot and each was an experience we will treasure. While not cheap, the prices were comparable to similar events elsewhere, and represent decent overall value. I could certainly recommend the Blue Horizon helicopter tour of Kauai, the Pearl Harbor and Allerton Gardens tours, and the Laua Kalamaku.
Regarding travel, eating and accommodation the trick is probably to do some independent research. TripAdvisor seems to reflect reality fairly well, whereas sites like Booking.Com seem to have less detailed independent advice.
Plan, set your expectations, and you'll really enjoy Hawaii.