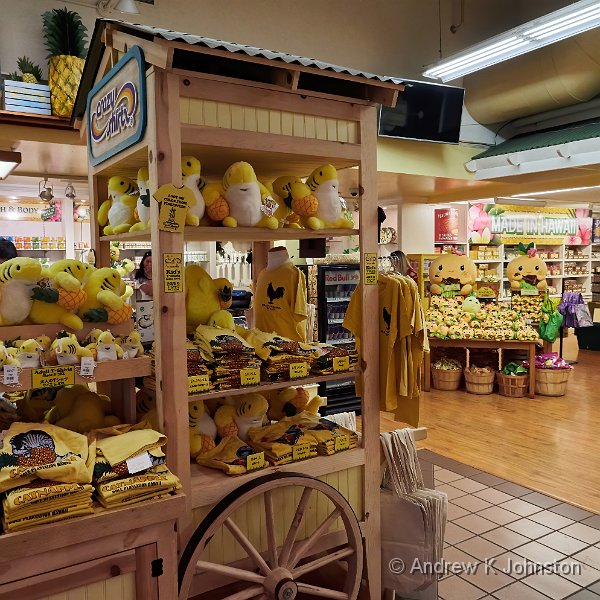 Camera: Panasonic DC-G9 | Date: 08-10-2019 11:18 | Resolution: 3978 x 3978 | ISO: 3200 | Exp. bias: 0 EV | Exp. Time: 1/60s | Aperture: 6.3 | Focal Length: 13.0mm | State/Province: Poamoho Camp, Honolulu, Hawaii | See map | Lens: LUMIX G VARIO 12-35/F2.8
Day 17
The original plan for today was to visit the famous snorkelling beach of Hanauma Bay but Sod's Law kicks in, it's now closed on Tuesdays. Instead we opt for a drive up to the north coast of Oahu.
Much of the journey is on a busy freeway, as wide and full as any we have seen in any American city. Honolulu doesn't have a mass transit system or any public transport beyond a few buses and the result is very busy roads. They are currently building an overhead rail system around the airport and Pearl Harbor and it will be interesting to see if that alleviates the problems.
Once off the freeway onto the smaller roads of the North the first recommended stop is the Dole Pineapple Plantation. This doesn't sound very exciting, but the car park is absolutely packed. After a short debate we decide just to visit the shop and get a coffee.
Entry into the shop is an experience – it's enormous, buzzing, and filled in every direction with a sea of bright yellow merchandise. Pineapple clothing, pineapple soft toys, pineapple art, pineapple jewellery. I suspect if you fell asleep (which would be a challenge) they would just paint a pineapple on you and add a price tag.
We forgo the $1200 pineapple brooch with real diamonds, but Frances finds some excellent costume jewellery, including, naturally, a small pineapple pendant. Coffee is served with a pineapple Danish pastry. When in Rome…
Lunch is a nice Fajita at a small "historic" shopping centre on the coast, entertainment provided by yet more feral chickens. After that we have a short walk on a pretty beach, but as usual there's no provision for casual visitors to spend time there, and anyway it's too rough to swim. We end up at the Waimea State Park, a small botanical garden developed in a fertile canyon ending in a waterfall. Sadly it's not the season for many of the flowers, but the park is full of colourful birds.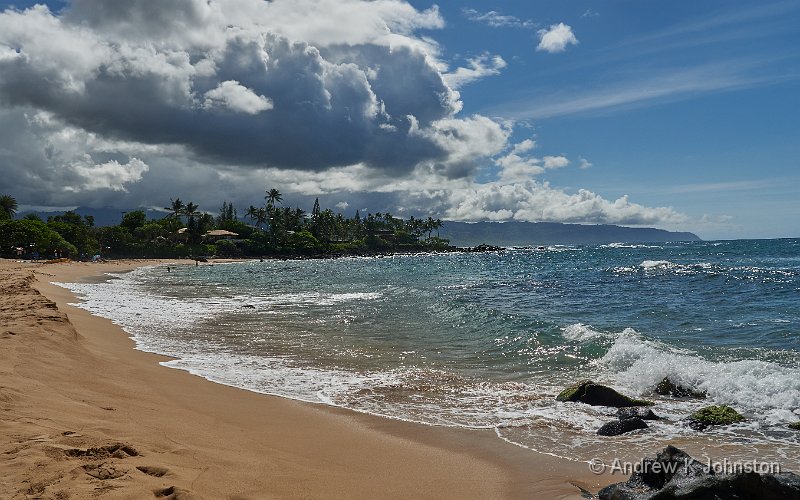 191008 G9 1009170 (Show Details)
Camera: Panasonic DC-G9 | Date: 08-10-2019 14:11 | Resolution: 5431 x 3395 | ISO: 200 | Exp. bias: -33/100 EV | Exp. Time: 1/1600s | Aperture: 6.3 | Focal Length: 15.0mm | State/Province: Kawailoa Beach, Honolulu, Hawaii | See map | Lens: LUMIX G VARIO 12-35/F2.8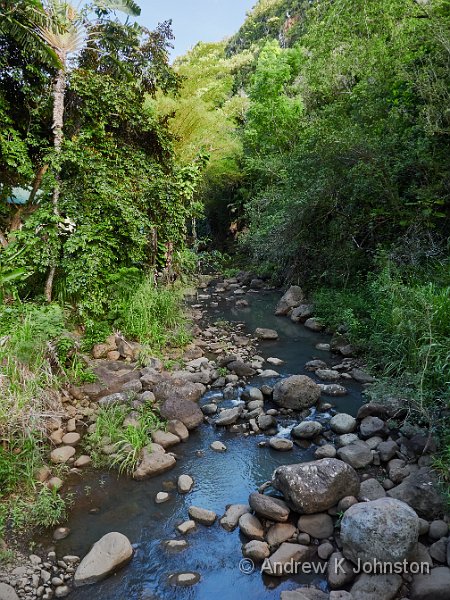 Waimea State Park (Show Details)
Camera: Panasonic DC-G9 | Date: 08-10-2019 15:29 | Resolution: 4036 x 5381 | ISO: 800 | Exp. bias: -66/100 EV | Exp. Time: 1/60s | Aperture: 6.3 | Focal Length: 14.0mm | Location: Waimea State Park | State/Province: Kamo'oloa, Honolulu, Hawaii | See map | Lens: LUMIX G VARIO 12-35/F2.8
Almost without discussion we both decide we want to go back to the "Bakery" at Macy's. Service and food are again excellent, it's a good way to finish our last full day in Hawaii.
Day 18
Sadly we say goodbye to Hawaii. (Confusingly that's "Aloha" again.) Our drive to the airport, car hire return, check in and security take a total of less than an hour, which must be some sort of record. The flight is smooth and unremarkable, although Hawaiian Airlines really don't have the trick of onboard customer service.
There's a bit of a trek at the other end to the San Francisco car hire centre, but yet again the Avis Preferred system works beautifully and we get shown straight to our car with one signature on pre-prepared paperwork. However, having booked a Ford Edge, a tiny SUV at the bottom of the range, I'm a bit surprised to be presented with a VW Atlas, which appears to be their response to the Lincoln Navigator. For British readers, that's about the same size as the Queen Mary. However the controls are all identical to Frances' VW Polo.
We manage to get the Ark Royal out of harbour and onto the road, and find our way to Pacifica, on the coast just south of San Francisco. I dock the Starship Enterprise, we're checked in by a charming young lady who has no problem providing service at 11pm, and we gratefully tumble into bed just after midnight.
Day 19
Even though we're only a few yards from Highway 1, we get a decent night's sleep and awake to a sunny Pacifica. The primary purpose of today is taking things gently, breaking the travel and helping to unwind the jet lag, but we also do a bit of "practical" shopping, for things like jeans and shirts where we prefer American products (and manage to get several sale bargains).
Lunch is accompanied by further hilarity courtesy of TV adverts. The advert in question appears to be completely straight, but features "The Midden Family". I know for a fact that "midden" has the same meaning to American historians as English ones, and a British advert really wouldn't feature a family by name if that name happened to be "Rubbish-Heap" 🙂
We get a very pleasant couple of hours in the sun in the afternoon – at last, a hotel with some provision for this activity! Then it's off to San Francisco for the wonderful Beach Blanket Babylon revue.
As always, this provides equal opportunity offense, thoroughly sending up a range of politicians, celebrities, ethnic and national stereotypes with a stream of hilarious songs and outrageous costumes (with some very, very big hats). The audience covers a range of ages, genders and colours, but you suspect that we all have a similar political standpoint, and the Trump character is treated as a pantomime villain. The "Von Trump" family singing a version of "Doe, a Deer" which ends "That will make us lots of dough, dough, dough, dough" sticks in my head, but that's just one moment from almost two hours of laughter.
Sadly this will be the last time we see the show, at least in San Francisco, as after 45 years it's coming to an end, but it's a great way to end our holiday.