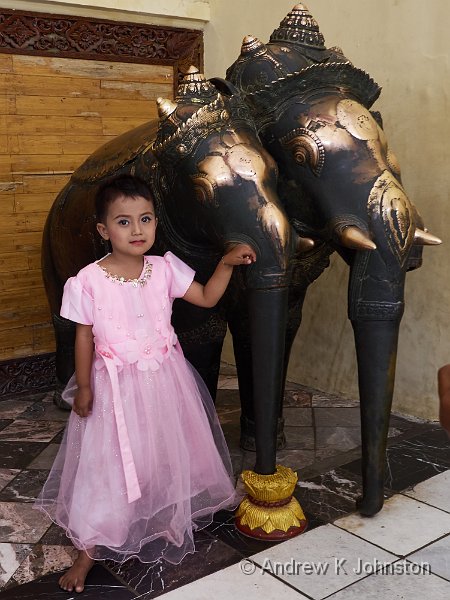 Camera: Panasonic DMC-GX8 | Date: 13-02-2017 13:45 | Resolution: 3007 x 4009 | ISO: 400 | Exp. bias: -33/100 EV | Exp. Time: 1/60s | Aperture: 6.3 | Focal Length: 16.0mm | Lens: LUMIX G VARIO 12-35/F2.8
Lie in.  🙂 Until 5.35. 🙁
After breakfast we go to Bagan airport and got the flight to Mandalay, which took 25 minutes ground to ground, followed by a bus drive of well over an hour through the city to the hotel.
Late morning consists of a trip to the Maha Muni Temple in central Mandalay. This is a splendid golden construction, but I am reminded of Noel Coward's famous song about Mad Dogs and Englishmen when I nearly burn my feet walking around the outer courtyards. The central area under the pagoda is an open grid of columns and arches, with highly polished tile floors which generate great light and reflections.
The Maha Muni is a busy place, with constant comings and goings by pilgrims, monks, nuns and lots of local visitors as well as tourists. Playing "catch a monk", trying to photograph a monk well-positioned against the background is entertaining and quite challenging. One of the primary activities is for young novice monks and nuns undergoing initiation – most Burmese children spend at least a few weeks in training as a standard part of education. I get a great shot of a tiny princess preparing for her initiation, and a rather fetching smile from a pretty older novice who passes us in her group.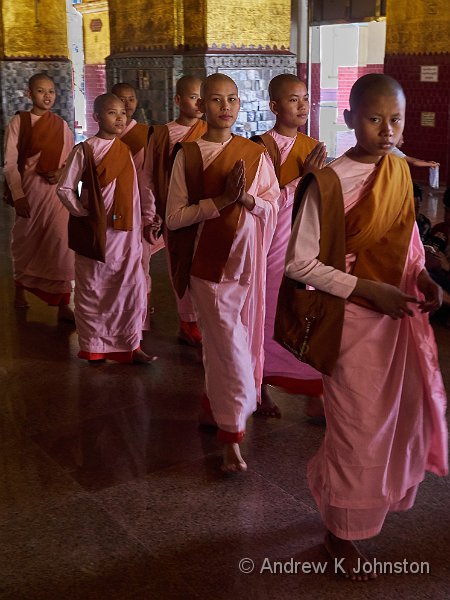 Lunch is pizza in the back of the Mercedes showroom next to the hotel. Unexpected. Delicious.
In the afternoon we head for the U Bein bridge, the longest teak bridge in the world. Unfortunately we hit bad traffic. Mandalay is a busy city of around 1.5M people, most of whom seem to be simultaneously on motorbikes, and the traffic does seem to be subject to random delays, especially around the frequent and poorly managed roadworks. It doesn't help that the good hotels are near the old Royal palace to the east of the centre, but the airport and most attractions are to the west.
The bridge provides another "good game" (shades of Bruce Forsyth) – attempting to catch a couple of locals, ideally monks, perfectly positioned between the bridge uprights without any other people in shot, while working from a rowing boat at extreme zoom range in the middle of the lake. I prove to be quite good, not sure why.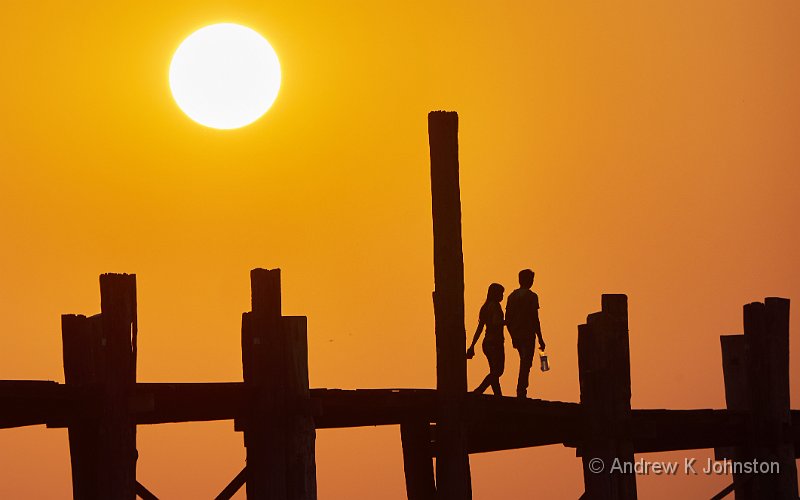 Fingers crossed for a decent nights sleep tonight.