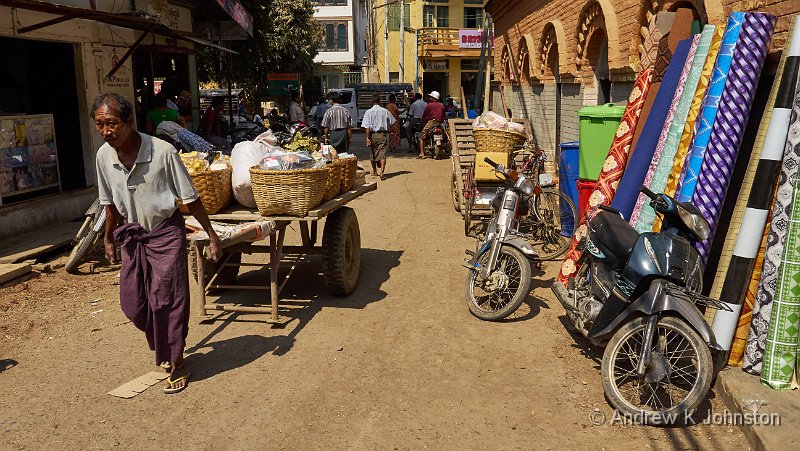 Camera: Panasonic DMC-GX8 | Date: 12-02-2017 12:13 | Resolution: 5184 x 2920 | ISO: 200 | Exp. bias: -66/100 EV | Exp. Time: 1/400s | Aperture: 7.1 | Focal Length: 15.0mm | Lens: LUMIX G VARIO 12-35/F2.8
Sunday. We started the day very early (again!), with a pre-dawn shoot at one of the temples, which ended with watching the balloons take off in the rising sun.
After breakfast we went into Bagan's main market town (Nyaung U as Bagan city is in the middle of the archaeological zone and very restricted in development) for some market photography and what would be described as "retail therapy" if there was any element of choice or relaxation in it, which there wasn't. I got a few items with a bit of an elephant theme for fun.
I would describe Nyaung U as "cheerfully manic" – a lot going on, but not as frantic as a larger Asian city like Kathmandu, for example. In sharp contrast to Yangon the main mode of transport seems to be the motorcycle. The number of attractive women riding around without helmets with their waist-length hair almost in the oily bits is quite large, but they seem to be sufficiently practiced to avoid the obvious problems.
It's not easy to capture "cheerfully manic" in a photo. I'm not sure whether the above does the trick.
After lunch I got another hour in the sun, which was almost but not quite without incident. You would think that the accumulated engineering skill of the human race would allow repeatable design of items such as the sun lounger, but apparently not. The Burmese design looks superficially similar to the western one, so much so that you could be forgiven for assuming that moving the back support beyond its final notch would just lay the bed flat. Unfortunately this is not the case – in the Burmese design this action disconnects the bed from the back "feet", turning the lounger into a see-saw with its centre of gravity (net of an adult human) outside its base. I watched with a combination of amusement and horror as the elderly gentleman beside me attempted said adjustment, and was then gently deposited head-first onto the pool deck. Fortunately no harm was done, but honestly. Gravity 1, human mechanical sympathy 0.
After that we had another hour scheduled for photographing dimly-lit temple interiors, but I declared UDI and went off to photograph the exteriors in late afternoon light. We finished up an another temple where you could get onto the roof to watch the sunset, a bit of a heaving mass of humanity but we got a few decent shots regardless.
We have another early start tomorrow (although not quite as bad as the last couple of days) and fly to Mandalay.