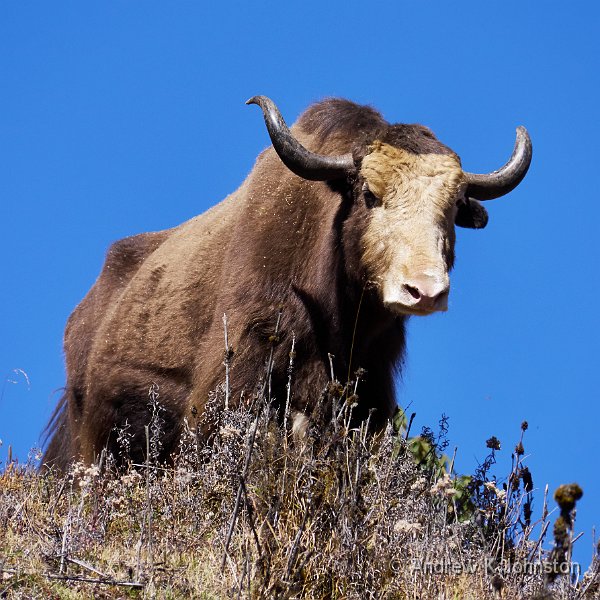 Camera: Panasonic DMC-GX8 | Date: 20-11-2015 10:57 | Resolution: 3575 x 3575 | ISO: 400 | Exp. bias: -33/100 EV | Exp. Time: 1/640s | Aperture: 8.0 | Focal Length: 300.0mm | Lens: LUMIX G VARIO 100-300/F4.0-5.6
Via Nobding (with more phalluses) – I couldn't make this up if I tried!
Today was essentially a very long and somewhat boring drive, to the "alpine" bit of Bhutan. Although start and end are probably only 50km apart as the crow flies, the road takes 200km as it hugs the sides of the very steep valleys, and crosses 3 passes all well over 3000m. On a normal day, the bus trip takes at least 10 hours (an average of about 20kph, including stops).
However, to make things significantly worse the Bhutanese have initiated a completely crazy programme of road improvement, which really isn't working and slows everything down even further. At least 70% of the route is currently "undergoing widening", but rather than having a few moderate to large teams focusing on specific sections, they seem to have decided to try and do it all at once, with a large number of small teams going almost the same work concurrently. What this means in practice is that for much of the whole route they have just finished drilling/dynamiting/digging the bank for the widened route, but you now have a route which is regularly almost blocked by heaps of stone either waiting to be taken away, or being assembled for the next stage, reinforcing the banks. Also the original surface is now either broken up, or covered in rock and mud. There's a lot of big machinery busy doing the digging and moving the rock and soil around, but very little evidence of anything at any other stage. I estimate the average speed has dropped to 15 kph for a bus, or rather less than 10 mph, and it's all very uncomfortable with a very uneven surface and large amounts of dust throughout the journey.
If it was me, I'd have a much smaller number of larger teams, with each section in a "pipeline" – a group doing digging and basic earthworks, one or more behind them doing reinforcing, bridges etc, and the last one surfacing. The road users might experience a few short stretches with perhaps bigger challenges, but offset by most of the journey being on either old, untouched road (fine, if a bit narrow), or by this point in time some on stretches of new, wide and fully surfaced road.
A "big parallel waterfall" method never, ever works in software development. It doesn't appear to work in roadworks either.
The worst thing is that we have to do it all in reverse on Sunday.
OK. Rant over.
Great lunch, and dinner, both including recognisable and very tasty beef dishes. We've obviously moved into an area with cuisine more compatible with my normal diet.
The hotel in Bumthang is wonderful. It has literally just opened, and reminds me of a an official park lodge in the US (but brand new). I have a room you could kick a football in, all done in lovely wood. Even the dragons in the foyer (just to remind you you are still in Bhutan) are carved in the same wood and not painted. Very elegant. We haven't seen Bumthang yet as we arrived in the dark, but it's meant to be very pretty, so fingers crossed.
First thing tomorrow we have been invited to attend an assembly at the local school, which should be fascinating.