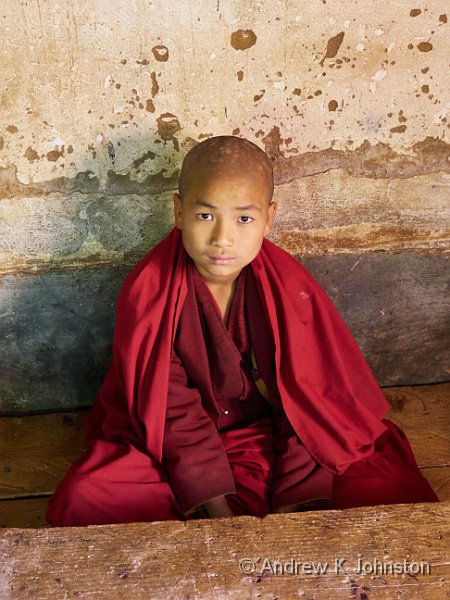 Camera: Panasonic DMC-GX8 | Date: 19-11-2015 10:18 | Resolution: 3888 x 5184 | ISO: 3200 | Exp. bias: -33/100 EV | Exp. Time: 1/20s | Aperture: 5.0 | Focal Length: 26.0mm | Lens: LUMIX G VARIO 12-35/F2.8
After a somewhat later start, we drive up a steep mountain road to Nalanda Monastery Institute, basically a training school for Buddhist monks, with several of the initiates only 6 years of age. It's ironic that these boys are entering a lifetime of study and meditation, and we have them working as models… However they are very welcoming, and the results are excellent in photographic terms.
The visit gives me an opportunity to reflect on another surprising dimension of Bhutan. Most of the older students and teachers speak excellent English. Bhutan seems to have decided that if it is going to have a successful high-value tourism industry, and also act as a "thought leader" in areas such as environmentalism despite its tiny population, it needs to operate in a globally-understood language. Unlike, say, the tourist coasts of southern Europe this runs a lot deeper than just the point of contact with tourists. Children take most of their school lessons in English, and it is rapidly becoming the primary "public language". Most road-side signs are either bilingual, or English-only. Businesses have signs in English, even those with an "internal" focus. Behind the bar in a cafe all the health & safety notices are in English, except for maybe a couple of lines of preamble. All this despite never being part of the British Empire or Commonwealth.
It's a fascinating contrast to Bhutan's much larger southern neighbour, who while exploiting their skill with English for commerce, seem to be equally determined to drop English as an official language, with its colonial connotations.
Back to the photography, the second site of the day is a beautiful mountain village with the splendid name of Nobgang! From here we can get views with the village in the foreground and very high Himalayan peaks behind.
We are expecting to take lunch at a hotel back in the valley, but half way down the bus turns into a delightful picnic area under the pines, and we're treated to another elegant al fresco meal.
After a couple of free hours in the afternoon, we gather for our guide, Yishi's, "surprise activity". This turns out to be an archery competition, in the dark, with alcohol! Great fun and fortunately no-one loses anything except pride. I am happy to report that thanks to a last minute bulls-eye by the most short-sighted member of the team, England beat the Rest of the World (Wales, Ireland, Australia, Germany and Bhutan) on aggregate, despite some outrageous cheating (such as having done it before) by Bhutan! 🙂
Long drive tomorrow, into the colder and wetter areas, so maybe some of the other gear will get a bit of use.