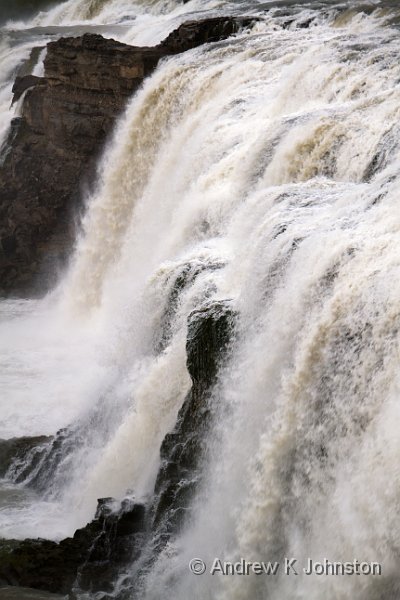 Camera: Canon EOS 7D | Lens: EF-S17-85mm f/4-5.6 IS USM | Date: 23-08-2011 11:02 | ISO: 100 | Exp. bias: 1 EV | Exp. Time: 1/100s | Aperture: 5.6 | Focal Length: 85.0mm (~137.7mm) | Lens: Canon EF-S 17-85mm f4-5.6 IS USM
I'm afraid I don't subscribe to the received wisdom that waterfalls should be photographed with long exposures which capture the flow as a sort of silky mush. That might work for gentle trickles in dappled glades, but if you're looking at something like Iceland's mighty Gullfoss you (or at least I) want to somehow capture the power of the flow. However, just setting a fast shutter speed, pointing the camera straight on and freezing the motion doesn't always work either.
I took around 100 shots around Gullfoss. I'm only really happy with a handfull, but yesterday I discovered this one which I think really works. Although I've labelled it "up close and personal" it was actually taken from further away than some of the others, but I like the pattern of flows and rocks revealed in the portrait orientation. I also think that the 1/100 shutter speed gets a pretty good balance between "flow" and "power", although it's a lot faster than some would go for. What do you think?