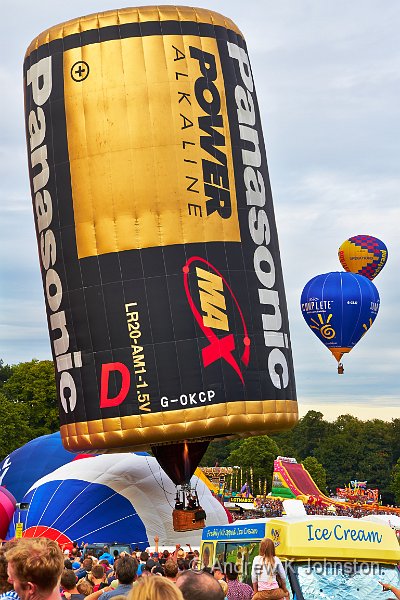 Camera: Canon EOS 7D | Lens: EF-S15-85mm f/3.5-5.6 IS USM | Date: 10-08-2013 19:16 | Resolution: 3076 x 4613 | ISO: 200 | Exp. bias: 2/3 EV | Exp. Time: 1/80s | Aperture: 8.0 | Focal Length: 42.0mm (~68.0mm) | Lens: Canon EF-S 15-85mm f3.5-5.6 IS USM
We are becoming quite the connoisseurs of balloon fiestas (unless fiesta is its own plural :)). Following on from Northampton 2008 (0 balloons) and Albuquerque 2012 (over 500 balloons) we've now added Britain's biggest festival on Bristol, which featured a great balloon display this weekend, including a mass ascent on Saturday night of more than 100 balloons.
Bristol's economic model is interesting. It's a "free" festival, which means in practice that they have to pack in lots of punters eating lots of burgers and taking lots of rides on the funfair to break even on costs. The result was a relatively crowded and sparsely entertained afternoon, but capped by first a very exciting mass ascension, and then, when the balloons returned, by a beautifully choreographed synchronised inflation and evening glow set to a great soundtrack.
Balloon fiestas are all different, and to articulate the differences, here are our Balloon Fiesta Awards.
Best Mass Ascension: Albuquerque 2012. 500 balloons and we were part of it!
Best Entertainment (No Balloons): Northampton 2008. I don't know whether they were expecting problems with the star attractions, but the organisers in Northampton put on an excellent day's entertainment regardless, with stunt riders, motorcycle display teams, and an attempt on the YMCA mass singing record! Bristol was about aerial displays, but very patchy. The non-appearance of the spitfires left a big hole in the afternoon's events. Interestingly the Albuquerque model is completely different – it's about the balloons, and everything essentially shuts down after the morning events, and restarts for the evening about 4pm.
Best Balloon Packing: Bristol 2013. We couldn't believe how many balloons inflated simultaneously from such a tiny field. I was a bit scared to see the baskets of balloons just taking off scraping across the canopies of those still inflating, but no obvious damage was done.
Best Traffic Management: Albuquerque 2012. The Albuquerque police took traffic management very seriously, closing or re-routing feeder roads onto and off the freeway, and the car parks were well marshalled going as well as coming. From the last bang of the fireworks to our hotel room on the other side of the city – 25 minutes!
Worst Traffic Management: Bristol 2013. The Bristol police and organisers did not make such a good job of it. We spent two hours waiting to exit the car park… From the last bang of the fireworks to a (closer) hotel – 2.5 hours!
Best Weather for a Mass Ascension: Albuquerque 2012. Sunny, warm, and a blue sky to provide a nice backdrop to the photos.
Worst Weather for a Mass Ascension: Albuquerque 2012. OK, the balloons didn't actually fly on the Thursday. Balloons and wind don't mix. Propane tanks and lightning strikes really, really don't mix!
Best Night Glow: Bristol 2013: Credit where it's due – this was superbly done. The balloons were inflated in synchronisation to music, and then the burns to light the balloons were also synchronised with the soundtrack. Brilliant.
They were all fun, and I recommend the experience wholeheartedly, but every experience will be different.