Camera: Canon EOS 7D | Lens: EF-S15-85mm f/3.5-5.6 IS USM | Date: 04-10-2012 18:48 | Resolution: 5184 x 3456 | ISO: 800 | Exp. bias: -4 EV | Exp. Time: 1/320s | Aperture: 10.0 | Focal Length: 28.0mm (~45.4mm) | Lens: Canon EF-S 15-85mm f3.5-5.6 IS USM
I've been catching up with some of the outstanding shots from our USA trip in 2012. One of the most successful days of the whole trip in photographic terms started in the fascinating Bisti Badlands, and ended on a short rim drive opposite Angel Peak. The scenery there would be stunning in many conditions, but we were treated to a dramatic sunset, with the sky on fire in certain directions.
Unfortunately, however, the best sky colour was opposite to the most dramatic scenery, which raised a dilemma about what to capture, and how. Most of the shots of the sunset itself are very nice, but have a relatively boring foreground. I've ended up favouring a couple of compromises.
The top shot is composed from 15 original frames, processed first in Capture One, then converted in Photomatix to 5 HDR images which were in turn stitched together in Pano Tools Assembler. The dynamic range across the scene was very high, and unfortunately the most interesting areas of the scene, the sunset and Angel Peak itself, are quite widely separated with the intermediate area somewhat less interesting. Although I've gone for a fairly "natural" look I'm not sure it doesn't still look a bit "processed".
The other compromise is a more traditional one. I call the image below "Tree on Fire". It's lit by the setting sun, but there's not much colour in the sky. My first attempt at this, immediately after the trip, wasn't very satisfactory as I ended up with a very oversaturated image which had insufficient detail and areas of blank colour. Re-processing in Capture One with its excellent highlight recovery I've managed to keep the deep red colour but get the detail of the tree back. A tighter crop than my first go has also improved matters. I'm now quite fond of this one.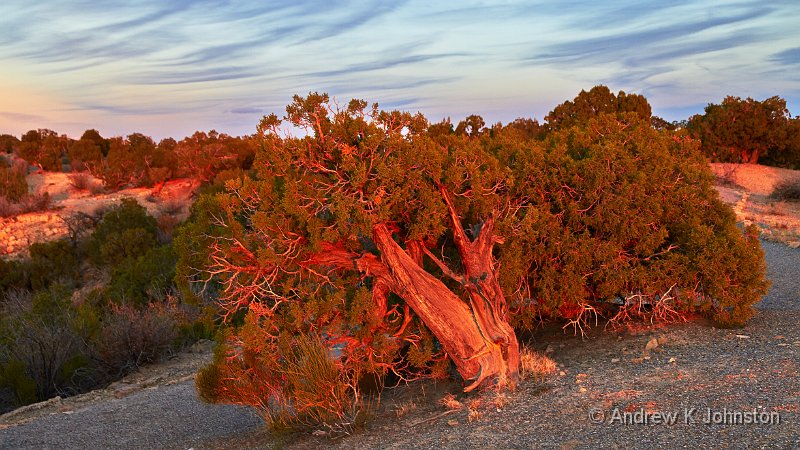 Let me know what you think.