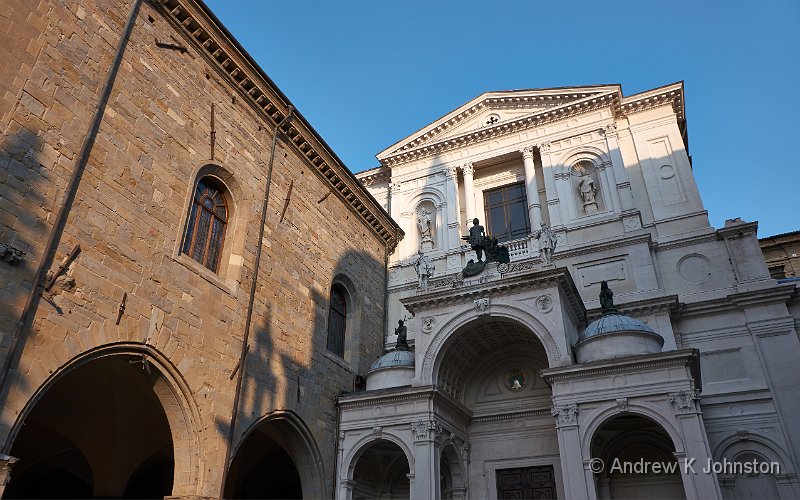 Camera: Panasonic DMC-GH2 | Date: 31-08-2013 17:17 | Resolution: 5111 x 3195 | ISO: 160 | Exp. bias: 0 EV | Exp. Time: 1/160s | Aperture: 11.0 | Focal Length: 14.0mm | Location: Excelsior San Marco Hotel | State/Province: Lombardy | See map | Lens: LUMIX G VARIO PZ 14-42/F3.5-5.6
For 2013 we've come back to Northern Italy. It's a place we both love. Frances has long harboured a desire to visit Verona, and I wanted to revisit the Dolomites through which I took a fleeting drive many years ago, so we built both into a short loop from Milan.
Photographically this is an experiment, as for the first time for about 6 years I'm travelling without my full-sized Canon camera. Unfortunately the new Panasonic GX7 didn't turn up in time, so the primary tool will be my existing micro four thirds GH2, with the Canon 550D as backup.
Day 1
Travel from Heathrow to Milan works flawlessly, a good start. Hire car is an Alfa Romeo Giulietta, with a 2l turbo diesel engine, which should be fun.
Short drive to Bergamo, and found hotel after minor panic. Parking in square behind hotel behind big doors in shopping arcade, just like in The Italian Job.
After settling into the hotel, we went to explore the old town of Bergamo Alto, (= "high"). There's a funicular railway to the main town, and a second one which I thought went down the other side. Wrong. It's a long way to the top of the hill on foot! However, had wonderful meal in restaurant recommended by our friends Pauline and Filece (who happens to be an Italian restauranteur).
Note to self: just because restaurant has Pizzeria in name doesn't mean it is not posh and I shouldn't arrive soaked after walking a mile up a steep hill!
Food: 9/10
Hotel: 10/10
Map reading of funicular railway: 1/10
Day 2
Further exploration of Bergamo. The low town is mainly big Lombardy bank offices and modern shops but worth a wander. Hotel Capello d'Oro is right in the centre. Bergamo Alto is the real tourist centre. We had a great lunch at the cafe run by the Bergamo micro brewery – excellent stouts and bitters completely contra to normal expectations of Italy.
We did all the normal tourist sights, then headed back to the hotel for a quiet coffee break. After that we headed out for dinner, to find the main square setting up for a big festival. Dinner, a club sandwich, was a bit disappointing, but the free rock concert was very good, we enjoyed watching the glamorous Italian ladies, and I got another pint of the local brew. Very good ice cream too.
Bergamo really is the home of beautiful people. We followed one young couple with three very young children, she in a spotless white linen dress, he in beige trousers and pale green polo shirt matching his suede shoes. I don't have toddlers, but if I did I would probably go around in a level 4 hazmat suit, visor down.
Note to Italian musicians: pop music really does work better in English.
Beer: 9/10
Music: 7/10
Tourist stuff: 7/10
Fashion: 10/10