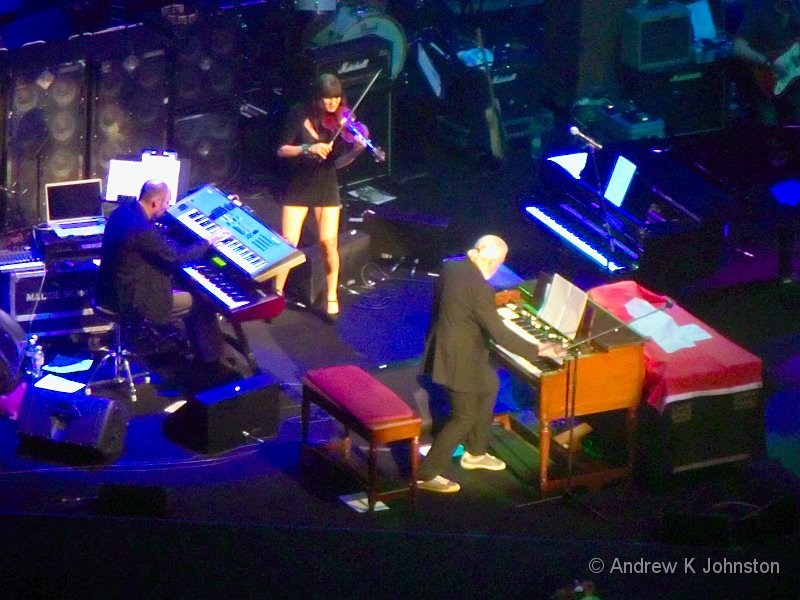 Camera: Canon PowerShot S95 | Date: 08-07-2011 22:45 | ISO: 800 | Exp. bias: -1 EV | Exp. Time: 1/20s | Aperture: 4.9 | Focal Length: 22.5mm | Lens: Canon EF-S 10-22mm f/3.5-4.5 USM
Since I was first old enough to take an interest in "real" (heavy/prog) rock music, my favourite band has been Deep Purple. I can honestly say I've studied their music (my relationship with it goes a long way past just listening), and seen them several times. Like the other great bands of the era their music has a unique "fingerprint", unmistakeable for any other. In Purple's case, it was the inclusion of a Hammond Organ, driven by a man who was both a great rocker and equally an orchestral composer. That was Jon Lord. I read sadly of his passing yesterday. He was a lovely man, and a great musician, and will be sorely missed.
I saw him in concert only twice, but both provide strong memories. The first time I saw Deep Purple, in 2002, he had already retired and handed the Hammond over to Don Airey. Half way through the first half of the concert, Airey did a long organ solo, which went at one point to a single note, while he was lit by a single lamp fading slowly to black. The note continued, and the lights came up, to reveal Jon Lord at the keyboard instead. The house erupted with admiration, possibly the greatest outpouring of emotion at a single musician's appearance I have ever experienced.
Then just over a year ago, we attended the Superjam charity concert hosted by Deep Purple at the Royal Albert Hall (see here for my review). Pride of place in the first half was an appearance by Jon Lord. His set included an absolutely chilling rendition of Sarabande with the violinist Anna Phoebe, a couple of duets with Rick Wakeman, and a final ensemble where they were joined by two more keyboard players, including Gary Brooker of Procul Harum fame.
I will play his music tomorrow, and think of him with some sadness, but mainly with great thanks for how his music has enriched my life.