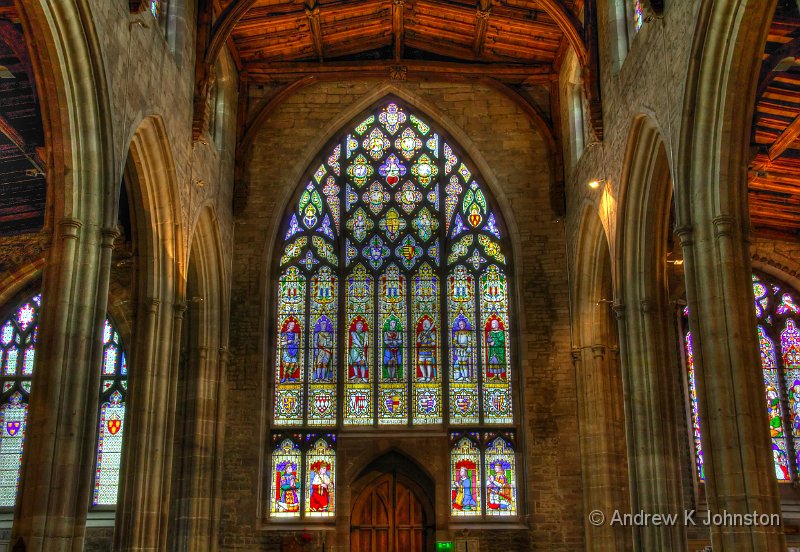 Camera: Canon EOS 550D | Lens: EF-S17-85mm f/4-5.6 IS USM | Date: 11-06-2011 17:25 | Resolution: 4968 x 3427 | ISO: 800 | Exp. bias: 0 EV | Exp. Time: 1/50s | Aperture: 6.3 | Focal Length: 28.0mm (~45.4mm) | Location: River Corve | State/Province: England | See map | Lens: Canon EF-S 17-85mm f4-5.6 IS USM
I've just been processing the shots from my steam train trip to Ludlow last year. Most are quite disappointing: the light was very poor, and you actually can't get many pictures of a train if you're travelling on it, and getting on and off at any stop other than the final one.
However, I was quite pleased by this shot of the interior of Ludlow's St. Lawrence's Church, an HDR combination of three originals. What was interesting was that I normally make strenuous efforts to achieve as natural as possible a result when I have to use HDR to overcome lighting challenges, but here for the second time in a couple of months I've tried subtle, and then gone for something more extreme. (See here for my attempt to emulate the great Dutch masters!) This was generated using some of the most extreme settings in Photomatix Pro, but I think they produce a good result.
I was also pleased to find that my geotagging process had worked. I wasn't sure of the church's name, but from my image browser I opened a Google Map at the geotagged coordinates, and could immediately confirm the location as St. Lawrence's.
Sometimes things work better than you expect!