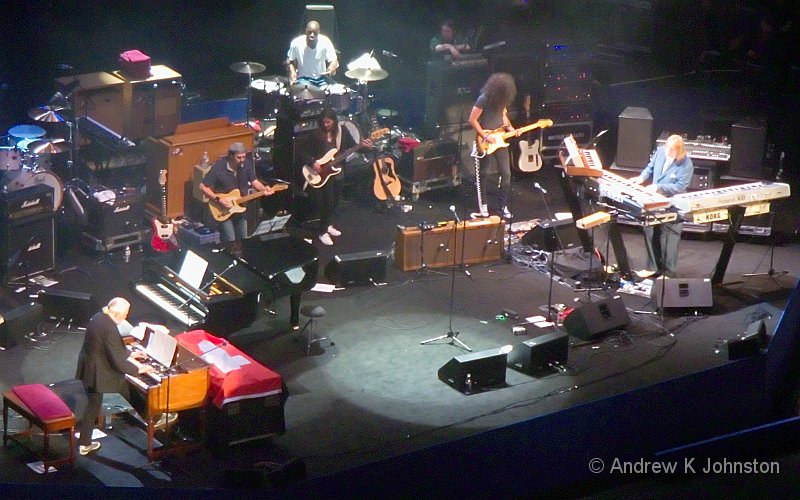 Camera: Canon PowerShot S95 | Date: 08-07-2011 23:03 | ISO: 800 | Exp. bias: -2 EV | Exp. Time: 1/40s | Aperture: 4.9 | Focal Length: 22.5mm | Location: Upper Rissington | State/Province: England | See map | Lens: Canon EF-S 10-22mm f/3.5-4.5 USM
Reflections on an excellent Summer for live music
I understand why buses come in threes. If you're interested, it's simply because the one at the front does most of the picking up and setting down, and the others just catch up. However, I don't understand why live music appears to work the same way.
We normally manage at least a couple of "big" concerts each year, but we didn't find much to inspire us in the whole of 2010. Then suddenly the famine turned to feast, and between the beginning of March and the end of July I'll have managed a total of nine live music events! These have really covered the range: from reggae to rock, from a tiny dinner jazz gathering with two musicians to the extravagant production of Roger Waters The Wall, and from classic rock acts to classical violin.
By very weird coincidence having never seen any of the classic American rock bands apart from Chicago, we then added four more scalps in three weeks. Journey, Foreigner and Styx (see this post) were followed in short order by Toto, at the much better venue of the Hammersmith Apollo. This was an excellent concert, and the youngsters now fronting up Journey would do well to go and view the older masters at work. All the great hits, good interaction with the audience and each other, and a decent sound mix. That's how it should be done.
However, the best of the lot, heading rapidly for a place in my all time top ten, was also one of the oddest. Superjam 2011 at the Royal Albert Hall last week was a charity concert in aid of Great Ormond Street Children's Hospital. The organiser is one Jackie Paice, wife of Ian, so naturally the music revolved around Deep Purple and their friends. And what a bunch of reprobates turned up…
After a lengthy charity auction (where those of us in the cheap seats got to have a distant look at the sort of people who can splash out 20 grand in a good cause) the music got going at about 9.30. The first act set the tone for the evening, with Newton Faulkener doing a version of Bohemian Rhapsody, complete with the complicated bits, as a solo with just an acoustic guitar. Various guests followed, each doing their own party piece, typically a tribute to another great musician, alongside one of their own works. Joe Bonamassa did a great version of BB King's The Thrill is Gone, and Gary Brooker turned up with Good Golly Miss Molly, followed, of course by Whiter Shade of Pale, which I certainly never expected to hear live by the original singer.
At this point there were still two Hammond organs and a big bank of synthesisers sitting unused on the stage, but that was about to be rectified. First by Jon Lord, who after a rocky first number then produced a spine-tingling version of Sarabande, with the both talented and attractive young violinist Anna Phoebe, and then an ethereal version of his ballad Pictured Within. Jon handed over to Rick Wakeman, who amused us with variations on Eleanor Rigby in the style of Prokofiev, as only he can, and then brought Jon Lord back on for a duet for Hammond organ and synths. This work, composed for the concert, was humorously about two old men comparing their "organs", with the wonderful title It's Not As Big As It Was :). Finally everyone came back on stage for the first half finale, Life On Mars, which Rick Wakeman apparently co-wrote with David Bowie.
After a short break, the second half started with Bill Bailey doing a very funny, but very odd, act with a six-neck guitar (!), followed by an even odder, even funnier medley of rock anthems in the style of Chas and Dave. At last Deep Purple took the stage, and belted through several of their classics. They were characteristically generous to the younger musicians, including Joe Bonamassa coming on guest guitarist on Maybe I'm A Leo.
But they left the best till last. The finale was Deep Purple doing Smoke On The Water – "nothing new there" I hear you say, but wait … – with Bill Bailey out front playing the infamous riff – on a set of cow bells! Musically spot on, and very possibly the funniest live music performance I have every seen. 😀
Maybe this wasn't the most polished set of performances ever, and maybe the sound quality up in the back row of "the gods" wasn't the greatest, but who cares? The music was stirring, the evident friendships and goodwill heartwarming, and I laughed like a drain. If there's a better way to raise some money for a good cause I'm not sure I've experienced it.
Location:Bicester,United Kingdom