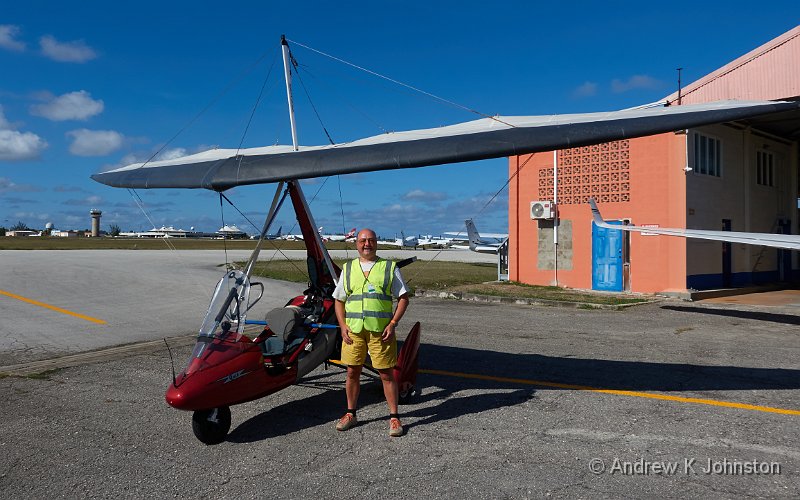 Camera: SONY DSC-RX100M4 | Date: 22-04-2019 20:00 | Resolution: 4621 x 2888 | ISO: 125 | Exp. bias: -0.7 EV | Exp. Time: 1/320s | Aperture: 4.5 | Focal Length: 8.8mm (~24.0mm)
Back in 2019 I was privileged to take what is a pretty unique airborne trip. Paul Nugent of Airsportsbarbados had one of only four two-seater microlight aircraft in the Caribbean, and at that time was running tours. To make it interesting, he was based at the International airport (Barbados only has one), so we queued up for take-off behind a 747 bound for Canada, and formed an orderly queue behind a Lear Jet to land!
Camera and lens choice was important, as I needed something light, easy to manipulate and which wouldn't stick out too far into the slipstream. Also I wouldn't be changing lenses! The Panasonic G9 was the ideal body, and I paired it with the jewell-like Panasonic 45-175mm. That's a real gem: only 90mm long (and no longer, it's an internal zoom) weighs 210g, and its tiny size means that it can be held stable in quite a strong wind.
We flew up the East Coast and back, which gave me great views of The Crane, where we stay. On a really good day I might be able to get these shots with a drone, but the prevailing wind would make it a challenge. it's less of an issue if you yourself are 300ft up.
The trip also took in other well-known sights on that side of the island including Codrington College, Bathsheba and the Morgan Lewis Windmill. Being able to photograph Morgan Lewis from the air was especially entertaining as it had just re-opened after a multi-year restoration, and by coincidence we had visited it, on the ground, the previous day.
This wouldn't be for everyone, but if your phobias allow it and you ever get the opportunity to do something similar, take it!