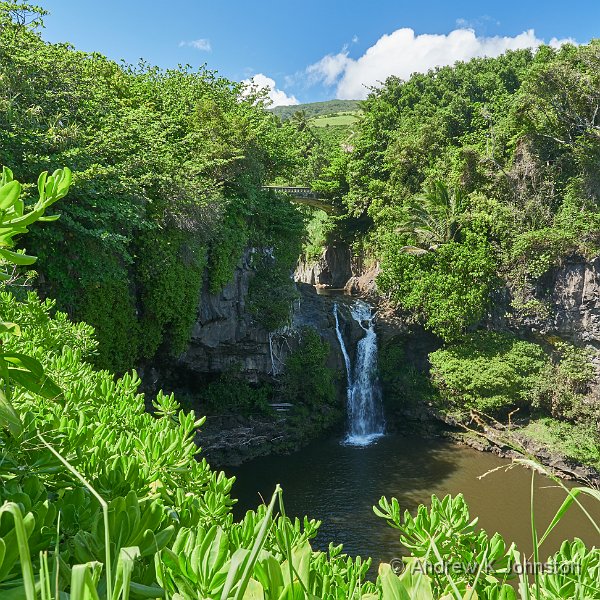 Camera: Panasonic DC-G9 | Date: 26-09-2019 13:42 | Resolution: 3888 x 3888 | ISO: 200 | Exp. bias: -33/100 EV | Exp. Time: 1/60s | Aperture: 7.1 | Focal Length: 13.0mm | Location: The Pools at Ohe'o | State/Province: Kīpahulu, Maui, Hawaii | See map | Lens: LUMIX G VARIO 12-35/F2.8
Day 4 – Retail Therapy
We're awake early, and spend an hour catching up with political developments in the UK. Then at 7am we discover behind a nondescript door next to the "boutique doss house" a wonderful coffee shop which does the best breakfast of the trip so far.
Fed and watered we explore Paia. There are some good "retail therapy opportunities" (much needed after the previous night), but we have to forgo those which don't open until 11, or only when there's a Q in the month… Nevertheless I get a couple of great T shirts in a shop part-owned by Alice Cooper (Alice in Hulaland). Frances finds some pineapple fabric to replace the net curtains which she washed when slightly the worse for wear after a glass of wine at the end of a long day, removing the pattern!
Frances also takes a fancy to a rather nice blouse embellished with one-off appliqué. We start to move away when we realise it's $300, but the sales lady seals its fate when she points out that the workshop has added pockets. "I don't do pockets," Frances announces, "in fact I usually remove them if a garment has them." Of which more later…
After that we bite the bullet and drive back towards Kahului, the island capital, and find a more suitable hotel. Lunch is delayed slightly while we pay a visit to the Hawaiian version of Primark: Frances has yet again come on a hot holiday without any summer dresses! For the princely sum of £30 we get not one, but three. Sorted.
The new hotel is in a less charming location, but everything works, the staff are friendly, the room is a good size, and we get a quiet afternoon by the pool and a decent night's sleep. Tick.
Day 5 – The Road to Hana
Maui is dominated by two main features. In the middle of the main part of the island is Haleakala, a 10,000 ft volcano. Around the edge is "The Road to Hana", named for the small town at the opposite end to Kahalui. Read the tourist guidance and you would think this is a slightly scaled down version of Bolivia's "Road of Death". Fortunately that's bollocks.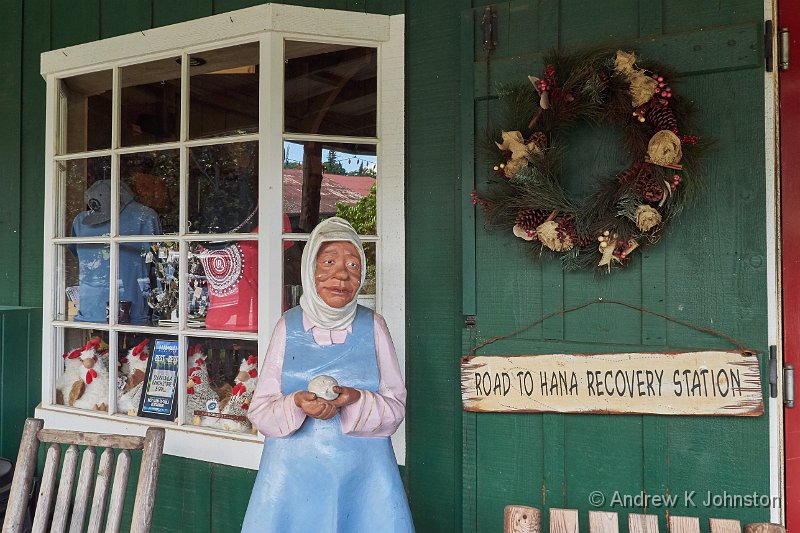 It is a small road which gets a lot of tourist traffic, especially along the North shore of the island. A lot of people try and drive the road to Hana and back in one day, and that can be a bit fraught. The southern section is shown on maps as unsurfaced and is described with dire warnings. However we've been told that a counter-clockwise circumnavigation is not only possible but desirable as there's a lot less traffic, so that's what we decide on.
The Western section is a good road up over the edge of Haleakala. We stop at a charming new church, a garden dedicated to Sun Yat Sen and all the Chinese who helped develop Hawaii, and a great little coffee shop attached to a winery. We decide against the wine tasting, just in case the southern section is really as bad as described.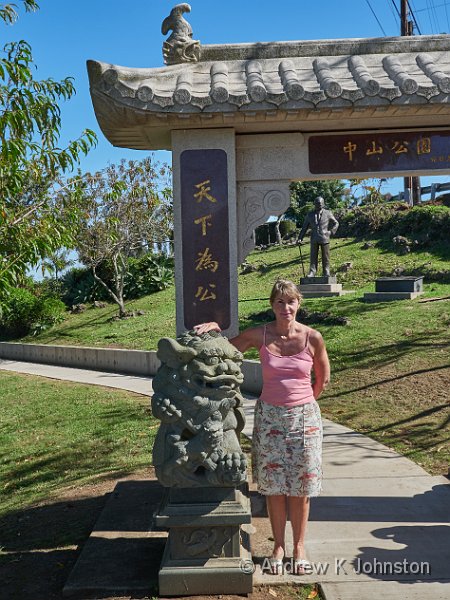 It isn't. Most of the road has a very good tarmacked surface with appropriate barriers where required. One stretch is down to the standard of the roads in Surrey, with multiple patch repairs but still surfaced. A few short stretches don't have any asphalt, but they are well graded. This is the dry part of the island and has almost a moorland feel, but it's a moorland which borders a dramatic Pacific coast, and for a while we can clearly see the top of Mauna Kea on the Big Island, peeking out from a cloud just like Bali Hai. Our own island is the same, with our views up Haleakala truncated by low cloud a couple of thousand feet up the slopes.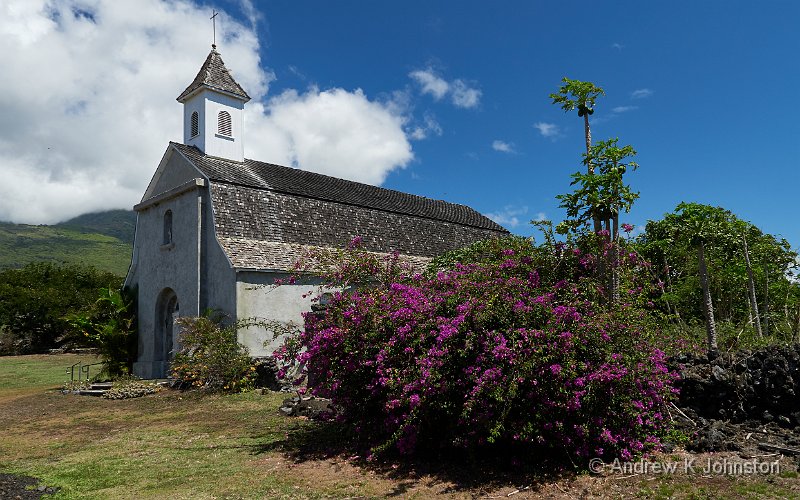 As the road rounds into the Eastern section things change a bit, with the road hugging the base of dramatic cliffs. Some parts are narrow and we have to pay attention to passing places. Things are somewhat fraught for a few miles north of the park and waterfalls at O'heo Gulch, but only because the more substantial traffic has to carefully juggle through narrow stretches including a number of one lane bridges.
After a while the road widens again and we come into Hana itself. We find that in contrast to Paia we have lucked out with a great apartment with a stunning sea view. Excellent.