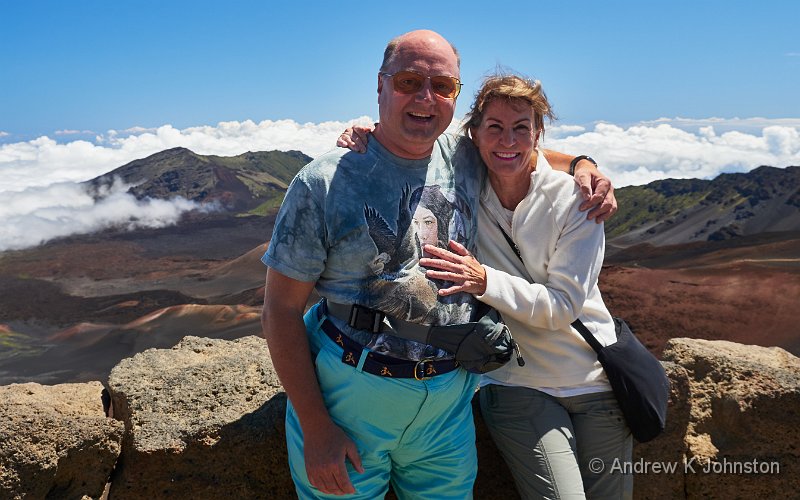 Camera: Panasonic DC-G9 | Date: 29-09-2019 11:17 | Resolution: 5381 x 3363 | ISO: 200 | Exp. bias: -33/100 EV | Exp. Time: 1/320s | Aperture: 7.1 | Focal Length: 16.0mm | Location: Haleakala NP | State/Province: Kaʻonoʻulu (historical), Maui, | See map | Lens: LUMIX G VARIO 12-35/F2.8
Day 8 – Haleakala
For a mountain lodge the night is surprisingly noisy: large vehicles on the road, guests moving cars around all night, and a rooster who gets confused and starts crowing at 1 am. In addition we have a somewhat binary provision on bedding – a quilt which is far too hot, but it's too cold for nothing.
We make an early start. An excellent breakfast makes up for some of the privations, and then we head up the mountain. In contrast to the Road to Hana the road up Haleakala is consistently two cars wide and beautifully surfaced and cambered. It would be a joy to charge in a sports car, but on a normal day it's also very pleasant to motor up gently observing the speed limit and the great views.
At the top there are three viewpoints providing different perspectives on the volcano's crater. This isn't a true caldera – the main vulcanism stopped a long time ago and what's now visible is the result of erosion by wind and rain, with a few volcanic vents breaking the surface. However the range of colours and shapes make for some great photos, with Mauna Kea (on the Big Island) visible in the background, showing what Haleakala looked like in its prime.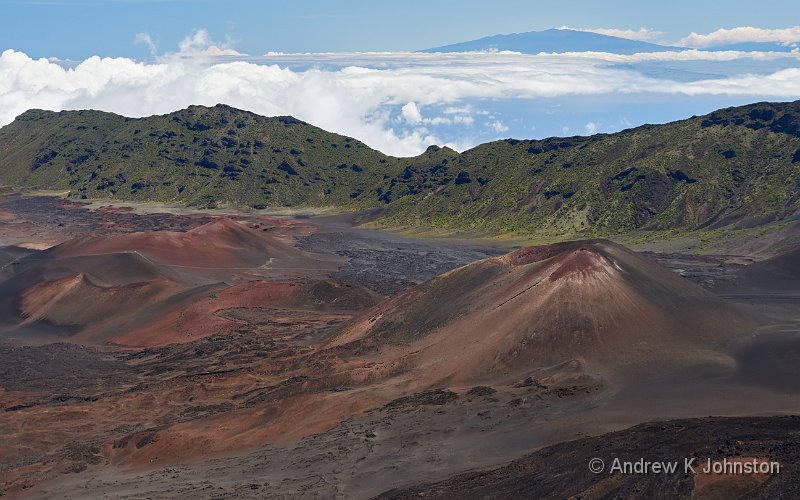 From the summit of Haleakala. Mauna Kea in the background. (Show Details)
Camera: Panasonic DC-G9 | Date: 29-09-2019 12:51 | Resolution: 5184 x 3240 | ISO: 200 | Exp. bias: -33/100 EV | Exp. Time: 1/160s | Aperture: 7.1 | Focal Length: 31.0mm | Location: Haleakala NP | State/Province: Waiakoa, Maui, Hawaii | See map | Lens: LUMIX G VARIO 12-35/F2.8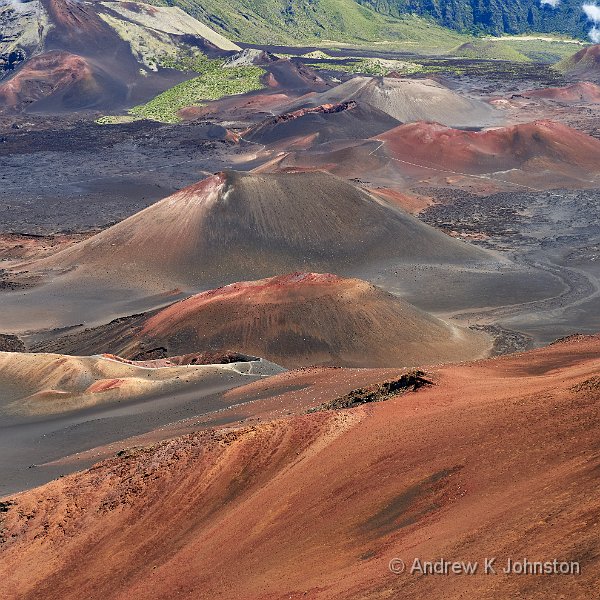 The crater of Haleakala (Show Details)
Camera: Panasonic DC-G9 | Date: 29-09-2019 11:35 | Resolution: 3962 x 3962 | ISO: 250 | Exp. bias: -33/100 EV | Exp. Time: 1/100s | Aperture: 7.1 | Focal Length: 41.0mm | Location: Haleakala NP | State/Province: Kaʻonoʻulu (historical), Maui, | See map | Lens: LUMIX G VARIO 35-100/F2.8
On the way back down I'm getting a bit mesmerised by the constant turns and the warm afternoon, and we stop just outside the park at an excellent coffee shop. We get there just a few minutes before they close. At 2pm!
Back at the hotel mid afternoon we have a pleasant few hours in the sun, although we have to sit at a picnic table (no loungers) and I become slightly annoyed at the bureaucracy one shop assistant attempts to impose on my buying a second beer…
Dinner is again very pleasant, we dismantle the quilt to just use the cover, and the rooster keeps quiet until after 4 am. Much better.
Day 9
We bid farewell to the mountain and spend the morning exploring the west coast, location of the main tourist beaches and hotels. It's OK, but not visually exciting and the retail opportunities are very poor after Paia and Makawao.
On the way back into Kahului Frances finds a fabric shop. After about an hour we leave with several lengths, including both a fish pattern and Angry Birds for future shirts for me.
We have a quiet afternoon by the pool and an early dinner – tomorrow we move on to Kauai.
Day 10
The flight to Kauai is full but short and uneventful. It flies very low and we get great views of the intervening smaller islands. As the plane is a Boeing 717 I reckon that "completes the set" and means that over the years we have flown all major models of the company's jets.
There's a slightly annoying bus ride to the Lihue airport car rental lot, but once there I literally just show my ID and get handed the keys to a shiny new Mustang. Whether this is astounding efficiency or the general Hawaiian avoidance of work is hard to assess.
The road to Waimea is heavily reminiscent of the main road through northern Barbados, but with occasional glimpses of much higher scenery in the island's centre. When we reach the hotel it turns out to be more of a motel – perfectly well equipped but again nowhere to sit in the sun, and very limited on-site service. The most confusing instruction is an 11am check-out time, before the office opens in the morning!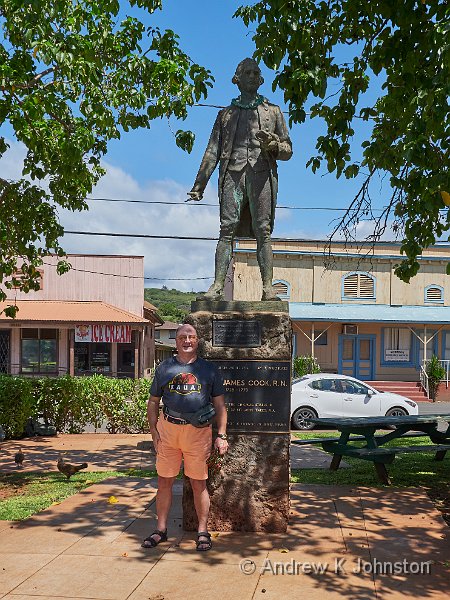 Waimea is where Captain Cook first landed in Hawaii (Show Details)
Camera: Panasonic DC-G9 | Date: 05-10-2019 12:15 | Resolution: 2971 x 3961 | ISO: 200 | Exp. bias: 0 EV | Exp. Time: 1/640s | Aperture: 5.0 | Focal Length: 14.0mm | State/Province: Waimea, Kauai, Hawaii | See map | Lens: LUMIX G VARIO 12-35/F2.8