My old mum has recently moved from her house to a smaller retirement flat, and is still in the process of sorting out some of the accumulated lifetime's possessions. On this visit, I was presented with a large carrier bag of old cameras.
I have to say, I wasn't expecting miracles. Mum and Dad never spent a vast amount on photographic equipment, usually buying a mid-range "point and click", using it till it stopped working and then buying another.
First out, an ancient Canon Powershot, for 35mm film. It probably works, but I tried explaining to Mum that there's no longer any real market for such items.
"No-one really wants the bother of getting films developed. You don't – you have a digital camera yourself now, you were using it last night."
"But surely there are people who love old cameras."
"Yes there are, but they have to be a bit special. If this was a Leica, with a little red dot on it, it would probably be worth some money, but not an ancient cheap Canon."
To settle it, I opened up my laptop and had a look on eBay. There were a couple, for about £15 and about £12, both with no bids.
Next up, a similar Panasonic. This still had a film in it, which was suspicious as it probably meant that the camera had died mid-holiday and been abandoned. eBay suggested an asking price somewhere in the range £8 to £11.99. Getting worse.
"I could offer it to the charity shop" said Mum, hopefully.
"Well you could, but don't be surprised if they are underwhelmed." I told her about my recent experience of having a perfectly good 32" flatscreen TV rejected by our local charity shop, which didn't encourage her.
"But surely if things still work?"
"I keep on saying, Mum, things have to be a bit special. You know, a Leica or something, with a nice red dot."
Next out of the bag was a Konica. This was a slightly different shape and had the rather ominous indicator "110" in the model number. That's definitely not a good sign, I mean can you actually still get and process 110 film? (That's assuming that you can see any point in shooting a format which is distinctly inferior to 35mm in the first place.) Amazingly enough there is one on eBay. £2.99, no bids…
"OK", says Mum, deciding that there's no point in arguing that one. "There's one box left in the bag."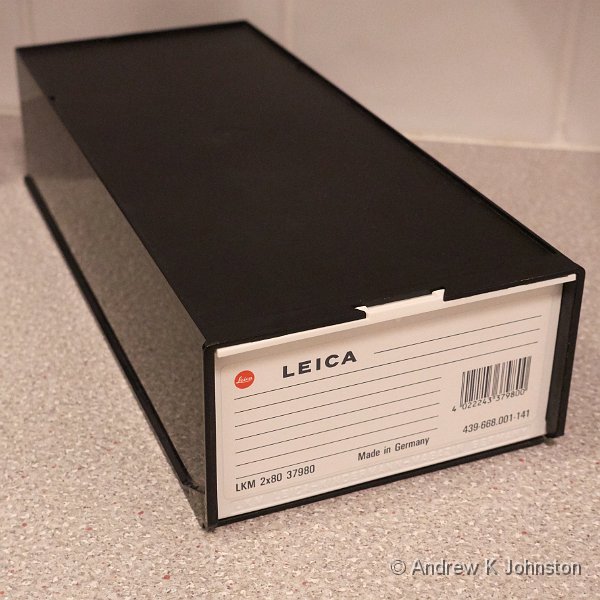 What? Hoist by my own petard! I mean, what were the chances??
Sadly it's actually only a slide box, and eBay suggests that it's going to get £20 at best, but I am now honour-bound to do my best to find it a good home.
Be careful what you wish for…