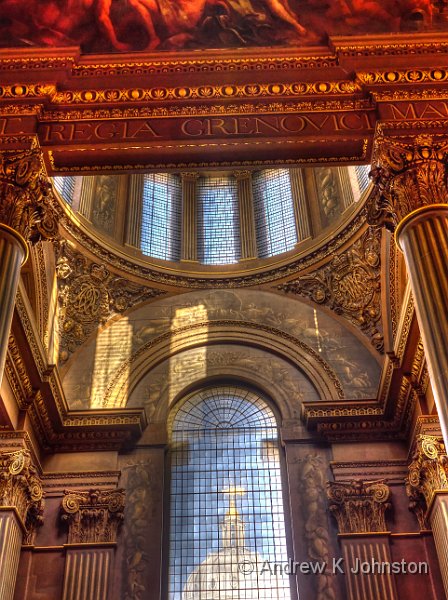 Camera: Panasonic DMC-GX8 | Date: 25-03-2016 20:35 | ISO: 200 | Exp. Time: 1/80s | Aperture: 6.3 | Focal Length: 23.0mm | Lens: LUMIX G VARIO 12-35/F2.8
I have to confess, this post is a conflation of two fairly separate topics, and I struggled to find a common theme, but I think I've just about pulled it off. Apologies if you disagree.
I'm just working through some photos I took last year, including a trip to Greenwich. When I first started using the latest generation of Panasonic cameras and Capture One software, I publicly questioned whether we still needed HDR techniques. The answer, I have discovered, is still very much "yes", but maybe only in more extreme circumstances than in earlier years. The dynamic range between the day-lit buildings outside the Painted Hall, the splashes of direct sunlight inside, and the dark shadows away from that direct lighting was considerable, and no single image could cover them. To process this I took a series of images covering a 4 stop base range, and then applied Capture One's highlight and shadow correction to them, squeezing probably another two stops in each direction, before feeding into Photomatix to merge into one. I'm pleased with the result, and happy that it justifies keeping those tools in my software "kit".
This post is also a bit of a test of another returning technical capability. I very much mourned the passing of Google Currents in 2012. If you don't remember, this was a beautiful news and feed reader with two key capabilities: offline working, and presenting the headlines of available stories as a mix of text and highlighted images, in the idiom of a paper magazine. However, Google killed it off in favour of the brain-dead "News-stand" app which has neither of these features. At the time I struggled to find a replacement. Feedly offers roughly equivalent feed management capabilities and equally pretty content presentation, but it doesn't work offline, which is a key capability for me, as I often catch up on news in low-connectivity environments. The available independent off-line readers were not a great bunch, but I settled on Press, which handled content caching very well but was never very inspiring in terms of the presentation of content, or its reading environment. For reasons I haven't ascertained, it recently stopped displaying the headline images from my own feed, which is rather annoying.
I have occasionally tried to find a more complete replacement for Currents, and last night, 5 years on, I may finally have found one. It's called Paperboy, and it may do the trick. Like Press, it runs on top of Feedly to allow common feed management across multiple apps, and it looks like it has similar offline capabilities, but the display and reading environment is much more like the lamented Currents. However, I need to check how it handles my own feed, and that means making sure I have a new post. So that's the other purpose of this item.
I'll let you know how it works.