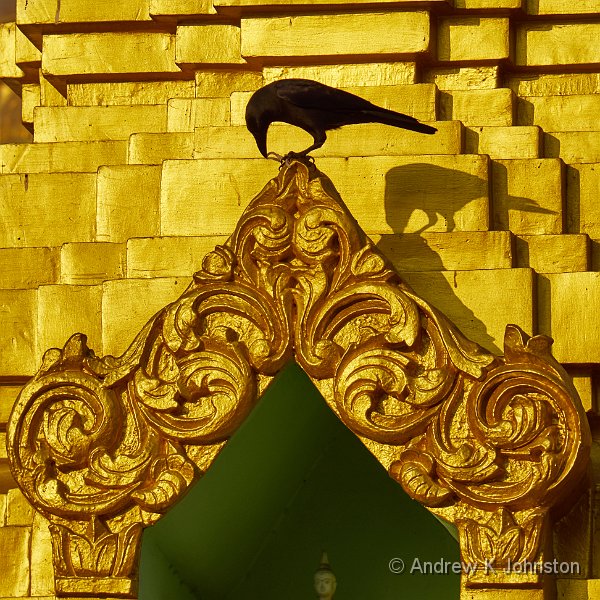 Camera: Panasonic DMC-GX8 | Date: 10-02-2017 07:27 | Resolution: 3888 x 3888 | ISO: 200 | Exp. bias: 0 EV | Exp. Time: 1/1300s | Aperture: 7.1 | Focal Length: 218.0mm | Lens: LUMIX G VARIO 100-300/F4.0-5.6
Just in case there's any risk of our body clocks getting back in line, we have a 5am start to return to Swedagon Pagoda before sunrise. This is essentially a reverse of last night, with the buildings initially under artificial light and then in the morning "golden hour", but with the significant benefit that it's very quiet, with only locals and dedicated pilgrims and photographers, until well after 8.
I realise that I'm tending to take a lot of the same shots as last night, and force myself to just sit on some steps with the 100-300mm lens mounted, and train my eyes again to look for details rather than the "big picture". However, I've come to the conclusion that I don't "see" in the traditional 70-200mm range. I'm happy trying to capture big vistas with wide-angle lenses, up to the short telephoto range, and then looking for details at what most people would regard as extreme telephoto, but I take relatively few shots in the middle. That's something I need to work on.
After breakfast we have a couple of hours to ourselves, which I spend on sorting out emails and getting the blog running, then we're off again, on one of the many separate flights which comprise this trip. We stop for lunch at a Chinese restaurant which has an impressive menu but where the waiters' English skills are less comprehensive. I order a small portion of roast duck, but what turns up appears to be almost a whole bird. Glad I didn't order the large portion!
The flight up from Yangon to Bagan is uneventful. Despite having much less in the way of paperwork and jet engines, Air KBZ runs promptly to time… We are now staying in a hotel with the wonderful name of the Amazing Bagan Resort!
Another dawn start tomorrow, just in case. This time it's our balloon trip over the plains of Bagan. More tomorrow. For now, here's a picture of two nuns meditating – peace be with you!