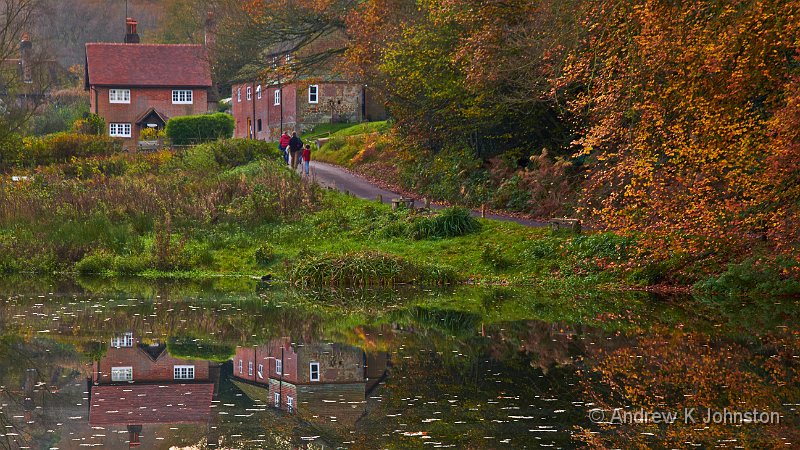 Camera: Canon EOS 7D | Lens: EF-S15-85mm f/3.5-5.6 IS USM | Date: 13-11-2011 15:41 | Resolution: 5184 x 2916 | ISO: 200 | Exp. bias: -2/3 EV | Exp. Time: 1/6s | Aperture: 10.0 | Focal Length: 65.0mm (~105.3mm) | See map | Lens: Canon EF-S 15-85mm f3.5-5.6 IS USM
There's a frequently made assertion in photography books and blogs that the choice of kit doesn't really matter, and a good photographer will make great images regardless. I don't altogether agree. While I think it's laudable to encourage photographers to focus on their images rather than gear acquisition, I also think this is quite misleading.
For all that's written, you won't find many professionals using low-end cameras to do their serious, paying work. There's a reason why a hairdresser's scissors cost £200, and I'm perfectly happy with a pair which costs £10. At the same time the hairdresser is probably perfectly happy with a laptop costing £200, while I expect to pay more like £2,000 for my main professional tool as a roving computer consultant, plus I'll always have a spare of similar spec.
If you're earning a living from photography (or doing expensive trips/shoots even on an enthusiast basis) there are some of the same considerations. One dimension is simply the durability of the more substantially-built models – you need a device which will just go on shooting after, to take my example, being bashed on a rock, in a bog, in the middle of nowhere, in Iceland. In some cases it's about capability. OK, if you're Jaques Lartigue you can get decent sports photographs with a view camera, but if you're a mere mortal then you'll get a substantially higher hit rate with the lightning autofocus and high frame rate of a Canon 7D. I love my little Panasonic GX7, but it doesn't do action, and it doesn't do getting wet!
Of course, there's no guarantee that by spending more money you are getting a better tool for your work. My counter-example is, ironically, the same Canon kit. I'm becoming more and more aware of just how ghastly a lens the Canon 15-85mm is/was. Take a look at the shot above. Even at web resolutions you can see that the reflection of the house's roof in the pond is sharp, but the roof itself, optically at the same distance and without water in the way, is blurred. The results from my newer Panasonic cameras, even with the inexpensive, diminutive 14-42mm power zoom lens, are just consistently sharper than than those from Canon even with a good, sharp, lens on it. And of course the 15-85mm died dramatically on the Iceland trip even before the incident where I knocked the 7D on a rock.
In a very real way the Canon 7D & 15-85mm combination actively held back my photography. I got into the bad habit of relying on the long zoom range, I got tired of carrying the weight, so didn't use it as much as I should, and I'm now seeing from straightforward back to back comparisons from my Morocco trip that the image quality was definitely poorer, visible even in web-resolution versions, let alone pixel peeping at 100%. I'm coming to the conclusion that it's either not possible to build a good zoom lens for APS-C with a good zoom range, or Canon can't be bothered to do so.
I think, therefore, that the right way to view the camera/photographer equation is as a combination of two components. Both must exceed a certain minimum: a brilliant photographer may struggle with a very poor camera, and a poor photographer will not achieve much with an expensive camera. Beyond that, it's a sum but where the photographer's skill probably has a greater weight.
In terms of "what camera should I buy", the first thing to understand is that equipment purchases won't compensate for your skill deficiencies. A camera purchase is also an engineering compromise. You need to understand your requirements (in particular what subjects and working style you want to follow), and choose kit which best fits that scope. If you really want to work without changing lenses, for example, buy a fixed lens superzoom! A little while ago I found the following wonderful decision tree. It's designed to some extent for laughs, but there's also a lot a truth in it. And without any cheating, it says I should go Micro Four Thirds, so it works!