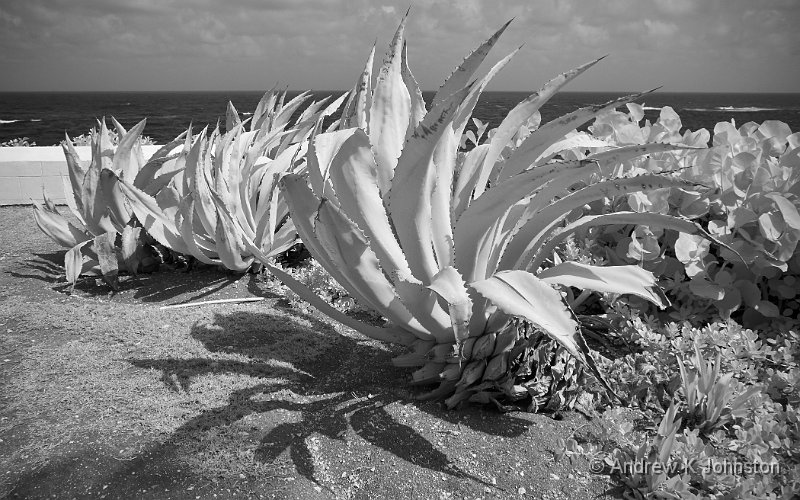 Camera: Panasonic DMC-GF3 | Date: 15-04-2015 14:33 | Resolution: 4202 x 2626 | ISO: 160 | Exp. bias: 0 EV | Exp. Time: 1/4000s | Aperture: 3.5 | Focal Length: 14.0mm | State/Province: Christ Church | See map | Lens: LUMIX G VARIO PZ 14-42/F3.5-5.6
Last Summer I purchased a Panasonic GF3 which had been converted to infrared photography. Like with many gadgets, there's a period where you play with the funky effects, and I quite like the way you can get a really deep blue sky if you do a "channel swap" on the processed image. However I have now established its milieu, and that's dramatic black and white shots of either partially cloudy skies, or graphic vegetation.
To help with this, I now have it set up to record RAW+JPG, with the picture style set to monochrome. The in-camera results may be slightly different from where the processed image ends up, but they are a decent guide.
Processing is very simple: you just use the "Color Sensitivity" mode of Capture One's Black & White tool. This is a classic channel mixer, but one in which the channels have a dramatically different effect to on a full-spectrum original. Red affects sky shadows and midtones. Yellow controls the sky and reflected highlights. Blue controls the tone of foliage with some effect from Cyan. Counter-intuitively the green and magenta mixers have almost no effect whatsoever! I now have a sensible starting point for images like the above set up as a preset, but the sliders will usually need a tweak to get the tonal balance right, and some global levels and curves tweaks may also sometimes be needed.
I'm very pleased with the image quality. The image is lower resolution than some of my others for two practical reasons: the GF3 only has a 12MP sensor, and that an older design, and infrared light simply can't resolve the same detail as blue with its much shorter wavelengths. In practice, however, neither of these are an issue. I bought the camera after reading an article by Ctein, who complained about "hot spotting" through some Micro Four Thirds lenses. I'll accept that I'm not as critical as he is, but I'm extremely pleased with the results from the inexpensive Panasonic 14-42mm power zoom lens. There's slightly more visible vignetting at the widest setting than in a colour picture, but otherwise I can't see much wrong with this.
Now I just need some more "graphic vegetation"!