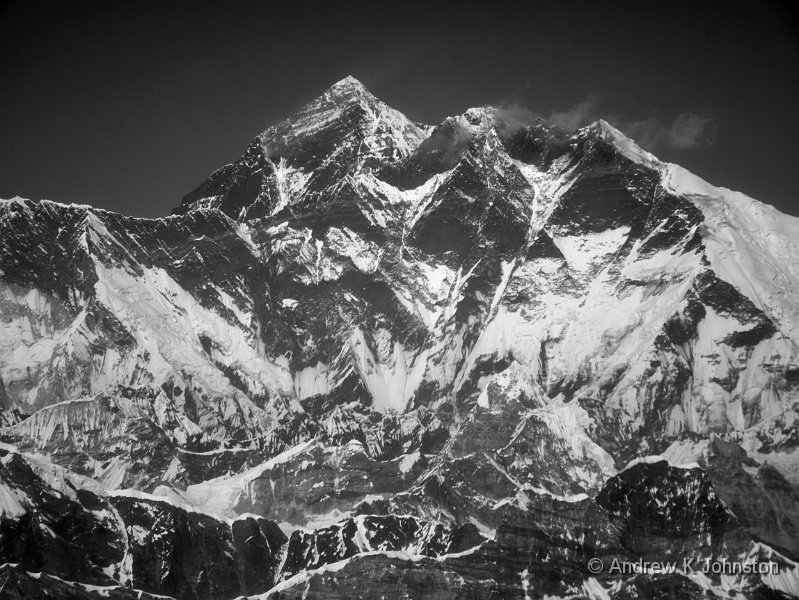 Camera: Panasonic DMC-GX7 | Date: 12-11-2015 12:54 | Resolution: 4592 x 3448 | ISO: 200 | Exp. bias: 0 EV | Exp. Time: 1/4000s | Aperture: 5.6 | Focal Length: 169.0mm | Lens: LUMIX G VARIO PZ 45-175/F4.0-5.6
It turns out that the descent into Kathmandu was just a warm-up act. The flight from Kathmandu to Paro is only about and hour and a quarter, in a 50-seat propeller plane, but I can't think of any short, scheduled flight between two capital cities which takes in better scenery. You should recognise the above, even without the caption.
The last few minutes are also fairly dramatic, as the plan descends into and then threads its way up the Paro valley, sometimes with the valley sides seemingly in touching distance and, at one point, a monastery higher than the plane. Apparently there are only about 8 commercial pilots licenced to do the run, total.
After the chaos of Kathmandu, especially the baggage collection area, Paro airport is absolutely deserted, with only a handful of visitors apart from our party. First impressions of Bhutan are of a very alpine feel, in architecture as well as environment, but with a distinct Asian twist.