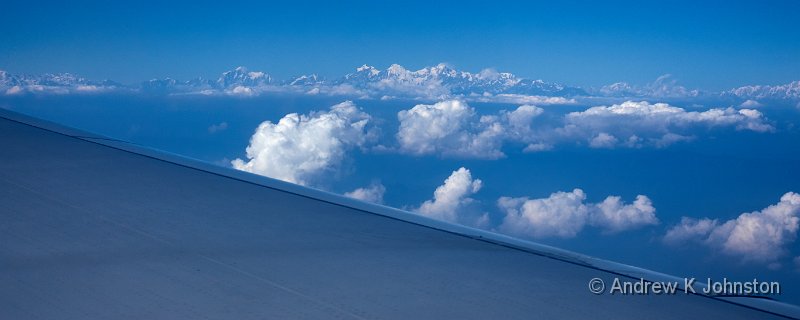 Camera: SONY DSC-RX100M4 | Date: 10-11-2015 14:47 | Resolution: 5472 x 2189 | ISO: 125 | Exp. bias: -0.7 EV | Exp. Time: 1/800s | Aperture: 3.2 | Focal Length: 25.7mm
Almost exactly two years after Morocco, my cameras and I are back on the trail again.
Where? I originally booked to go to Patagonia, but after Top Gear were run out of town on a rail that got cancelled. Then I booked for an underwater photo safari in the Maldives, and that also got cancelled. Finally I got the benefit of someone else's cancellation and booked on the Light and Land trip to Bhutan this November. The route is via Kathmandu, and the day after I booked my flights, Nepal had its earthquake…
So Bhutan it is, but with a little trepidation given the somewhat tricky start.
The flight is in three parts. The first leg is from Heathrow to Doha, with Qatar. The flight is pretty uneventful, and lives up to Qatar's reputation for good service. However something in the air causes me a bit of an allergic reaction, and my fairly new Samsung tablet seems to have suddenly lost most of its battery life.
The descent into Doha is briefly fascinating. Like many of the Gulf states they have built an elegant and ordered new city along the waterfront, and it looks great lit up at night.
I have a 8 hour stopover, which is a bit of a mixed bag. The airport is large, modern and well provisioned for retail therapy, but prices are higher than I was led to believe, presumably mainly because of the strong Dollar. Following a Trip Advisor suggestion, I book into the Oryx lounge, which achieves looking very comfortable, but not actually providing anywhere to get some real rest. I finally get a recliner seat in the "quiet room", but even that's defeated by the bright lights and seismic snoring of the fat Arab gentleman in the next booth.
After a large whisky (which at least partly defrays the cost of the lounge) I get about 1/2 hours sleep, but eventually give up. It's clearly a conspiracy to maximise your use of the retail facilities, and unfortunately it works. Just in case I wasn't carrying enough cameras, I'm now heavy a Sony RX100 mk IV. That brings the total to 5…
The flight to Kathmandu is fairly boring for the first four hours, but the last 20 minutes is amazing, as we fly alongside a series of Himalayan peaks just poking out of the clouds at a similar level to the plane.
Arrival is fairly straightforward. Nepal has just introduced an electronic visa system so I needn't have invested £7 in the world's scariest passport photos last week. Grr… Immigration lulls me into a false sense of security, and I'm not expecting the total chaos of the baggage hall. It takes over an hour to get my bag.
The Hotel Annapurna is very smart, and charming, and I get to meet most of the rest of the group. After dinner and a few beers it's time for bed. Tomorrow we fly on again to Bhutan.