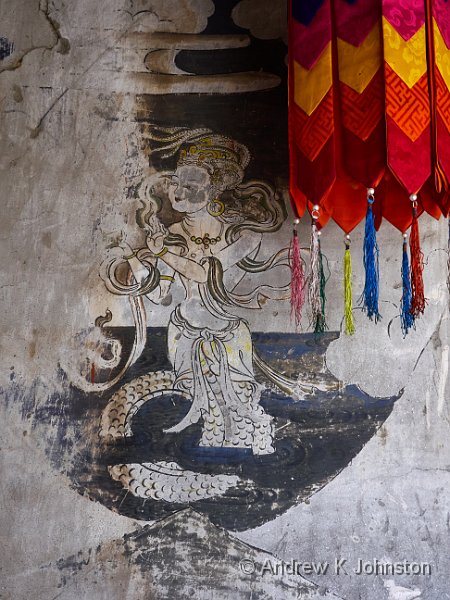 Camera: Panasonic DMC-GX8 | Date: 13-11-2015 09:25 | Resolution: 3888 x 5184 | ISO: 250 | Exp. bias: -33/100 EV | Exp. Time: 1/60s | Aperture: 6.3 | Focal Length: 17.0mm | Lens: LUMIX G VARIO 12-35/F2.8
After all the travelling, it was good to get our teeth into a solid day of photography.
The day starts with a pre-breakfast, pre-dawn wander around the hotel. However as a result of an extremely cold bedroom my night's sleep had been somewhat interrupted, and I end up poking my head out of the door for about 5 minutes, and then focusing on breakfast!
The first step is the Kyichu Lhakhang, one of the oldest in Bhutan (founded in the 800s). This is very colourful, and an "active place of worship" which is always encouraging to see. It's great fun spinning up the prayer wheels and then trying to capture them in various states of movement. Beyond that, we can photograph the wonderful old buildings and the decorations, which are in a particularly flamboyant state as Bhutan has just had a major celebration in honour of the old king (the current king's father) and also the arrival of a new royal heir.
After coffee (cappuccino and a chocolate croissant, so much for local fare :)) we visit the Rinpung Dhzong, an enormous fortress, also still in use, mainly as the local court house but also as a working monastery. I get slightly bored with the architecture and engage in some "Urbex" (urban exploration), finding the way to the top of central tower and get a couple of shots under the eaves of this enormous wooden structure.
In the afternoon we go to see some archery, but it's very difficult to photograph and I managed to get some oil on my clothes… 🙁 . We finished the day by shooting the dhzong from the middle of the river, and I prove that the latest Panasonic technology allows one to hand-hold shots down to about 0.4s. Remind me, why did I bring a tripod?
The group is great. It's seven years since I have been on a trip led by Clive Minnit and Phil Malpas, but the madness had not subsided – if anything it's increased. I've heard more politically incorrect jokes today than in the least year, but that's the advantage of a group in which I'm still, officially, the baby!
Tomorrow we do a big loop into the mountains, including shooting prayer flags at 13,000′.