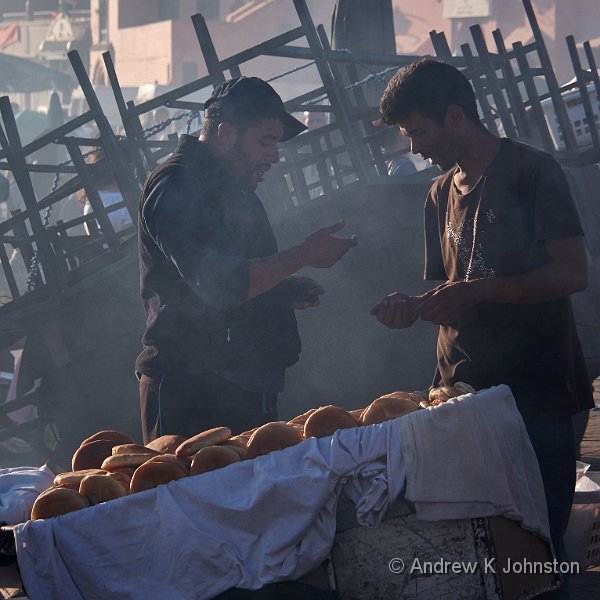 Camera: Panasonic DMC-GX7 | Date: 10-11-2013 17:20 | Resolution: 3067 x 3067 | ISO: 200 | Exp. bias: -66/100 EV | Exp. Time: 1/400s | Aperture: 8.0 | Focal Length: 77.0mm | Location: Djemaa el Fna | State/Province: Marrakech-Tensift-Al Haouz | See map | Lens: LUMIX G VARIO PZ 45-175/F4.0-5.6
I suspect we all have something which can attract our attention, like a missile locking onto a homing beacon, even against significant background noise. With Frances, it's shoes. With me, it's bread!
There was a scene in the excellent, but very complicated, Belgian conspiracy thriller, Salamander which demonstrated this. Set in a Belgian monastery, in the foreground the central character is discussing the case with his brother, formerly a policeman but now a monk. They are trying to work out who has covered up doing what to whom, and how. In Flemish, so we're getting this through subtitles. Even by the standards of the rest of the series it's very, very complicated.
A monk wheels a trolley through the background, destined for the refectory. I go, "Ooh, that's nice bread"! That breaks our chain of thought and we have to go back about a minute…
I can't remember, but I think the same happened here. This was taken across the big square in the Marrakesh Medina, through a lot of cooking smoke and dust. The original has almost no contrast, and is quite indistinct. However Capture One has worked its magic and I think it now works. What attracted my eyes in the first place? Guess…