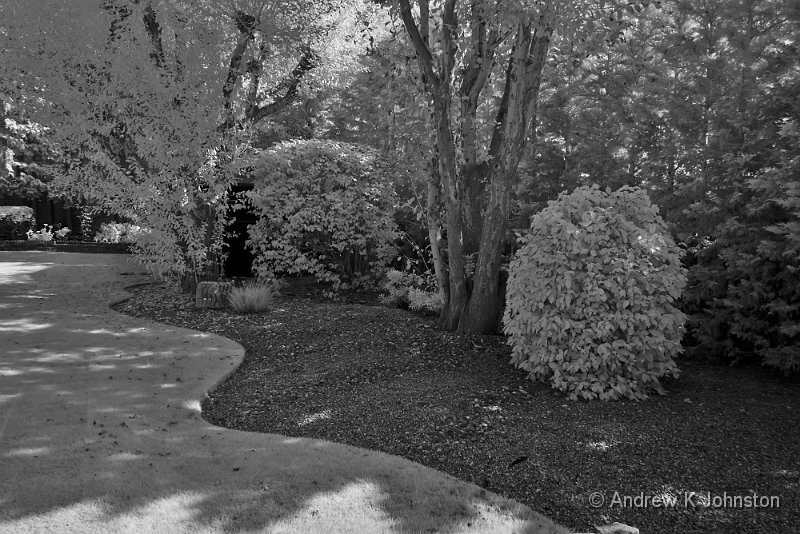 Camera: Panasonic DMC-GF3 | Date: 08-09-2014 15:26 | Resolution: 4000 x 2672 | ISO: 160 | Exp. bias: -66/100 EV | Exp. Time: 1/125s | Aperture: 7.1 | Focal Length: 14.0mm | Lens: LUMIX G VARIO 12-35/F2.8
I've just got a new toy, a Panasonic GF3 converted for infrared imported from the USA. I went for the 590nm filter which admits a fair bit of the visual spectrum for the popular "goldie" look, and which makes sure that the cameras metering and display work fairly unaffected. The challenge is that to get the best results you have to swap the red and blue channels in processing, and the only software which does that straightforwardly is full PhotoShop, which I don't and don't want to use.
However, I realised that I can combine the camera with the Hoya R72 filter, which passes only true infrared light above 720nm wavelengths. This instantly converts the camera to a true infrared system with monochrome output, which Capture One handles perfectly. The above is an example of how this works.
I'm just at the start of learning this fascinating technology. I may find that it's a gimmick which doesn't justify carrying around the extra kit (although as the GF3 shares batteries and lenses with my GX7 this is minimal), but it may help to develop my vision in an interesting way. I'll keep you posted…