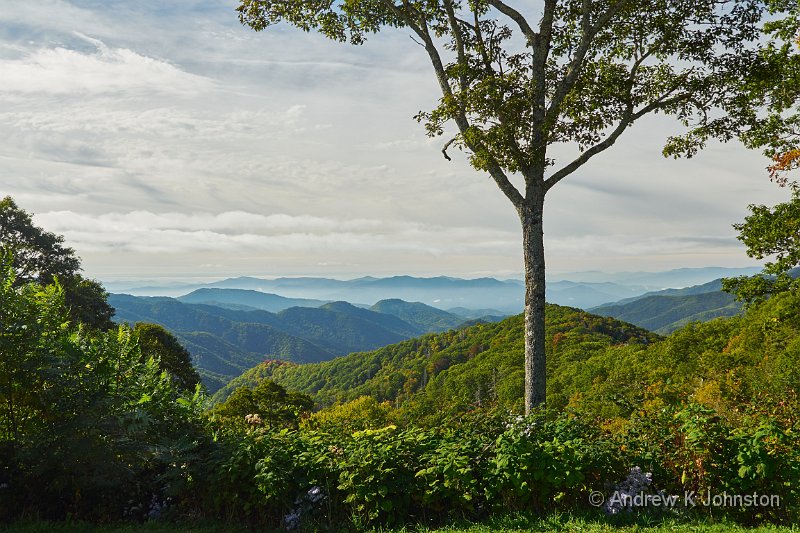 Camera: Panasonic DMC-GH4 | Date: 28-09-2014 09:54 | Resolution: 4608 x 3072 | ISO: 200 | Exp. bias: 0.33 EV | Exp. Time: 1/250s | Aperture: 6.3 | Focal Length: 18.0mm | Location: Minnie Ball Branch | State/Province: North Carolina | See map | Lens: LUMIX G VARIO 12-35/F2.8
Day 8
North Carolina. Lattes! Sparkling mineral water!! Vegetables!!!
We drive through the Great Smoky Mountains National Park and join the Blue Ridge Parkway. This was one of FDR's great public works initiatives in the 1930s. Running along the ridge of the Smoky Mountains all the way to Shenandoah National Park near Washington, it's essentially a long thin National Park in all but name. There are no commercial vehicles, it has a gentle speed limit and frequent viewpoints and there's little development or human activity visible most of the way. Some of the views from the high points are stunning.
A couple of hours gentle driving and snapping brings us into Asheville, home of the Biltmore Estate. George Vanderbilt, the third grandson of the great rail and shipping magnate, inherited $10M in the 1880s, and decided to spend it on a great mansion in the Carolinas. The result is effectively French chateau on the outside, English stately home on the inside, and 8,000 acres of farmland and forest which have allowed his descendants to keep it running as a self-sufficient entity, first as a working farm and now as a tourist destination.
Lunch is taken in the stable courtyard with nothing fried or battered in sight. We spend a very happy afternoon first doing the guided tour of the house, and then having an excellent meal with the first recognisable vegetables for a week!
Nice clean, modern hotel, but with about a 2 degree slope on the floor. Very odd.