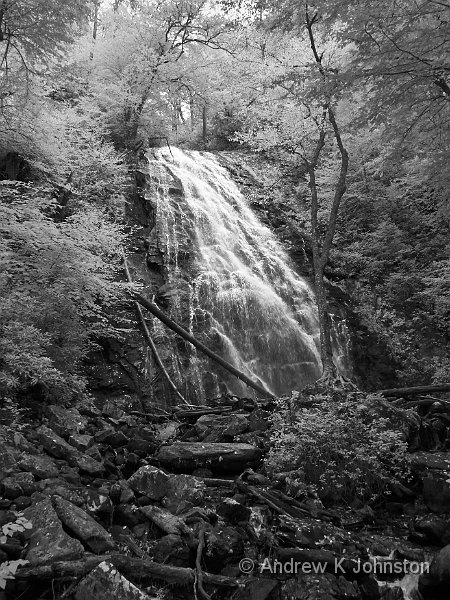 Camera: Panasonic DMC-GF3 | Date: 29-09-2014 12:55 | Resolution: 2774 x 3698 | ISO: 400 | Exp. bias: 0 EV | Exp. Time: 1/60s | Aperture: 8.0 | Focal Length: 14.0mm | Location: Upper Falls | State/Province: North Carolina | See map | Lens: LUMIX G VARIO PZ 14-42/F3.5-5.6
Day 9
We awake to something we haven't seen so far this trip – rain. Fortunately I'm a great believer that bad weather makes good photographs, so hopefully we'll still enjoy the day. We get back on the Parkway and head north. Some of the views are almost invisible behind the rain and cloud, but others are very dramatic with rising mist. We seem to have found an area where the Autumn colour is better advanced, which also makes a positive difference.
At lunchtime we hike down from the road to the Crabtree Falls, one of the most dramatic waterfalls in this part of the world, and still photo-worthy even at this time of the year. The infrared camera renders the somewhat moody scene beautifully. On the way back the rain starts again and I get a lot of complaints…
Late lunch / early dinner makes up for this. We each have a "Philly" sandwich served with a baked sweet potato with cinnamon. Absolutely sublime.
We motor quickly through some very interesting looking scenery on our way to the overnight stop at Boone (named for the famous trapper), but we have a whole day in the area tomorrow so things look promising.