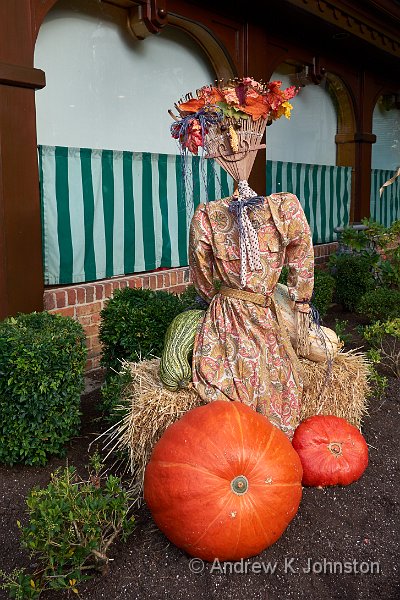 Camera: Panasonic DMC-GX7 | Date: 26-09-2014 17:44 | Resolution: 2909 x 4364 | ISO: 200 | Exp. bias: 0 EV | Exp. Time: 1/200s | Aperture: 5.0 | Focal Length: 14.0mm | Location: Baskins Creek | State/Province: Tennessee | See map | Lens: LUMIX G VARIO PZ 14-42/F3.5-5.6
Day 7
A slightly frustrating day. Great Smoky Mountains National Park is the most visited of the American parks, but in some ways it feels like the least loved. We are shocked by fresh graffiti in what may well still be consecrated chapels, and some very poor traffic management decisions result in miles of backed-up traffic around the Cades Cove loop road for no good cause.
On our way out the next day we see a young woman openly sprawling her name on a rock at a viewpoint. Astonishing.
Maybe because the park lacks a natural centre it's more difficult to create a real park culture, but the Parks Service could help themselves by charging for access, which would help create some sense of value, and by providing better explanatory information at the points of interest.
Food follows a similar pattern to yesterday. Frances observes that the Tennesseeans seem to have endless ingenuity in increasing the calorific value of food, while minimising its nutritional content.
We have a quiet end to the day, with an hour by the pool, followed by dinner, coffee and a moonshine tasting! However it's interesting to observe that the roads through Gatlinburg are now completely gridlocked with traffic leaving the park and arriving in the town. One of the shop owners cheerfully explains that they seem to have pulled off a unique trick, thanks to their climate, and the summer season doesn't really end until after Christmas. If anything October is their busiest month. This contrasts sharply with Britain, where Christmas begins in September, or the typical ski town which shuts down between the last walkers leaving and the snow arriving.
One thing which is charming is the way every shop and common area in Gatlinburg is beautifully decorated with a "fall" display of corn dollies, pumpkins and wreaths of corn and leaves. Frances is so inspired we purchase our own corn dolly and wreath to try and create the look at Coppertrees.
The trick to Gatlinburg is wandering right through to the back of each alley. This process locates the best food and a great coffee shop which serves cream cakes and a proper latte.
Tenessee has proved a very friendly place. The streets of Gatlinburg may be full of bikers and rednecks, but with everyone eating ice cream and making an effort to be friendly it works.