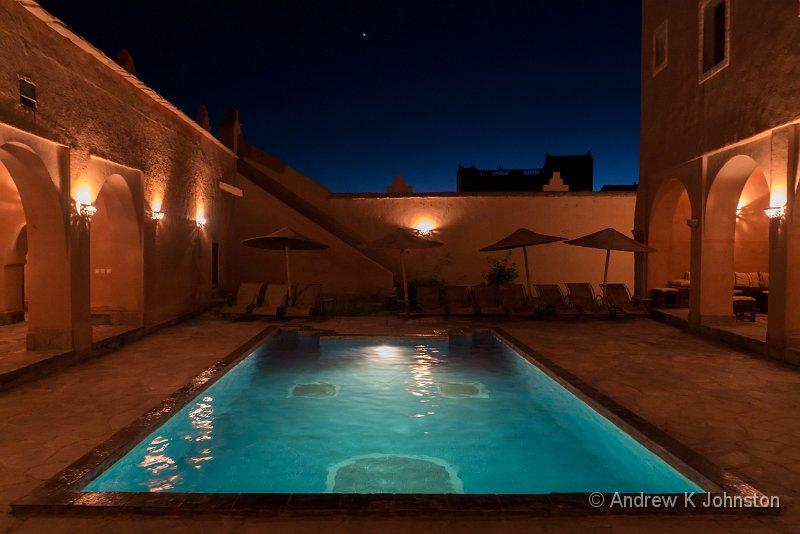 Camera: Panasonic DMC-GX7 | Date: 19-11-2013 18:05 | Resolution: 4592 x 3064 | ISO: 1600 | Exp. bias: 0 EV | Exp. Time: 1/15s | Aperture: 2.8 | Focal Length: 12.0mm (~24.0mm) | Lens: OLYMPUS M.12mm F2.0
After a very cold start (see previous post) we had an early start and trekked the short distance across the remainder of the Erg Chebbi. At the edge we said goodbye to the camels and transferred to a couple of 4x4s, which were driven expertly if slightly scarily across the flatter sand to Khemliya where we spent an hour photographing and filming some local musicians.
The Panasonic GX7 continues to impress, capturing faultless, stable high-definition video in almost no light. This morning it worked well in a dim interior, and last night it captured the entertainment by the light of just a small camp fire. (Sample video to follow.)
Then we returned to the auberge in Merzouga for a shower and early lunch, and sadly started the long drive back to Marrakech. The route takes us down the south side of the Jbel Saghro, which is even hotter and drier than the northern side, essentially a rocky desert with very sparse cultivation.
We ended the day in N'kob, a small town essentially just at a crossroads between routes across Morocco. We're staying at the rather pleasant and beautifully renovated Kasbah Imdoukal (Berber for "friend") . Tomorrow we complete the drive back to Marrakech.