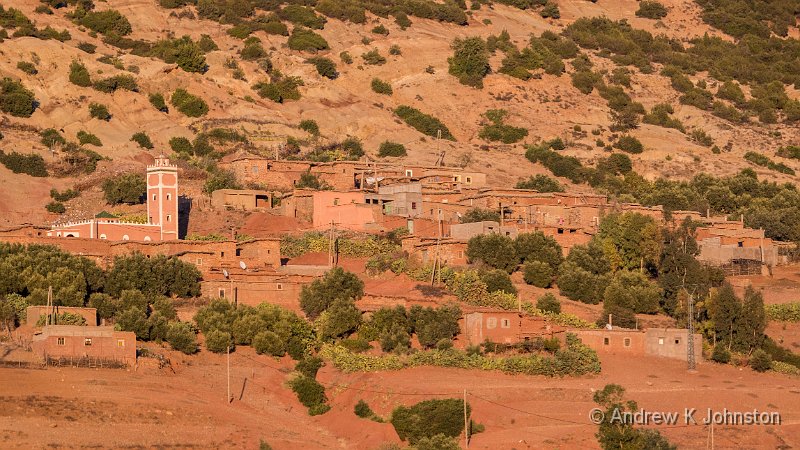 Camera: Panasonic DMC-GX7 | Date: 20-11-2013 16:57 | Resolution: 4592 x 2583 | ISO: 640 | Exp. bias: 0 EV | Exp. Time: 1/250s | Aperture: 7.1 | Focal Length: 109.0mm (~226.0mm) | Lens: LUMIX G VARIO PZ 45-175/F4.0-5.6
The final day of the trip was mainly a long, hot drive over the two mountain ranges between N'Kob and Marrakech. Unfortunately I was on the left side of the minibus, and the sun carefully matched the gentle rotation of our dominant direction of travel to beam in through my window the whole time 🙁
The first snow of the year had left the highest peaks of the Atlas peppered in white. Most of our route still looked pretty dry and dusty, but at the top of the pass there were a few white patches in sheltered corners. It's been a hot year and the locals are really looking forward to some precipitation, which looks like it is finally about to arrive.
We had a pleasant end to the drive with a couple of shots of the mountains and hillside villages in nice light, then arrived back in Marrakech after dark. We went to eat at a restaurant we had also visited last week, and amused the waiter by all ordering the same thing, thanks to a strong recommendation from those who had it last week.
My flight back to London is relatively late in the day, but my plan for a lie-in was scuppered by the local Mezzuin starting his calls at 5 am! On a positive note this meant I was able to have a final breakfast with my companions from the trip.
I'm now sitting by the pool bringing my blog up to date, and should be able to finish my first pass on the photos before lunch and setting off to the airport. Unfortunately I have to admit that it's not really warm enough to just be in a T shirt, but I'm on holiday in a hot country, so I'm determined to try…
Overall it's been an excellent experience, travellers' tummy notwithstanding. It's just sad it's come to an end.
The photography was as good as expected, possibly better as we got more people shots than I was expecting. In total I made about 3,100 exposures, split as follows: Panasonic GX7 2308, Canon 7D 747, Canon 550D 37 (plus a few by Carolyn trying it out as a possible upgrade for her 350D). Around half retained after first edit, so hopefully at least a couple of hundred "keepers".
I'll finish off with my traditional "what worked and what didn't" hints and tips soon.