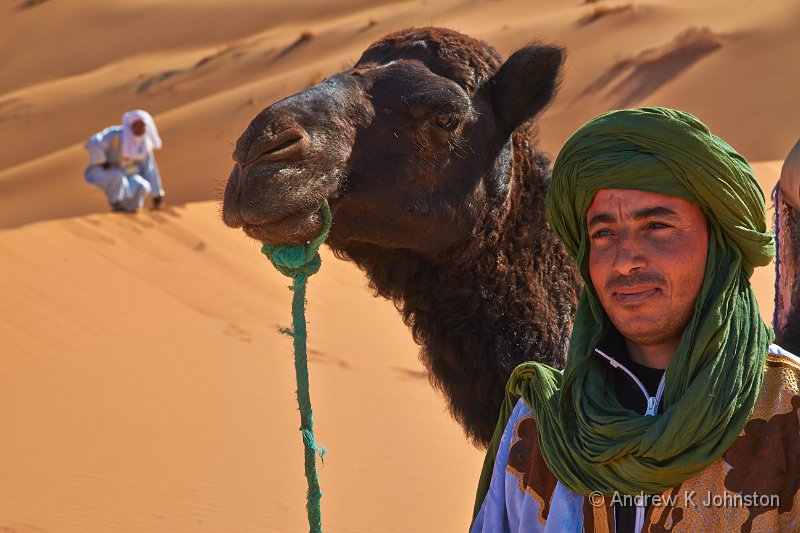 Camera: Canon EOS 7D | Lens: EF-S15-85mm f/3.5-5.6 IS USM | Date: 18-11-2013 11:12 | Resolution: 5184 x 3456 | ISO: 200 | Exp. bias: 2/3 EV | Exp. Time: 1/50s | Aperture: 10.0 | Focal Length: 65.0mm (~105.3mm) | See map | Lens: Canon EF-S 15-85mm f3.5-5.6 IS USM
It may be the middle (OK, edge) of the Sahara, but it's bloody freezing. I'm currently lying in all my clothes, in my sleeping bag, under a heavy Berber blanket, with my cheche on my head, but it's so cold my eyes can't focus properly on my phone, and my hands are having trouble operating the stylus, although in fairness the restrictions of the sleeping bag contribute to that!
We had a dawn start yesterday, and were treated to some great light on the dunes. The only problem was getting up them. The camels make it look easy, but if you have dodgy knees and very small feet for your weight you're lucky if you achieve three steps up for every two you slide back.
After a late breakfast we went shooting camels. Not literally, I hasten to add – I wouldn't dream of doing such a thing. I have decided that I like camels. The ones we have been working with seem to be remarkably docile, gentle creatures, rather like tall, strong, lumpy sheep. Our guide Yussef posed with several, and then one for close ups. This animal had a real personality, and seemed to have a model's instinct, moving quickly between and then holding different poses, some just nice, some really hilarious.
After a long lunch break we set off again over the dunes. Late afternoon was another great light show, with ripples in the sand and small shrubs providing foreground interest against the swirls and curves of the larger dunes and a deep blue sky.
The second Berber encampment was really rough. Oh the disappointments of electric light and flushing toilets… After dinner our guides and camel handlers entertained us with drumming and Berber folk tunes. One was unmistakably the same tune as "Ma Baker" by Boney M, which raises an interesting question: which came first?
I had another go at my star trails, but I suspect that a combination of problems will have affected the results. Firstly in attempting to compensate for the moonlight I may have underexposed the starts, and secondly the battery died from cold sometime relatively early in the night. I just have to wait and see.