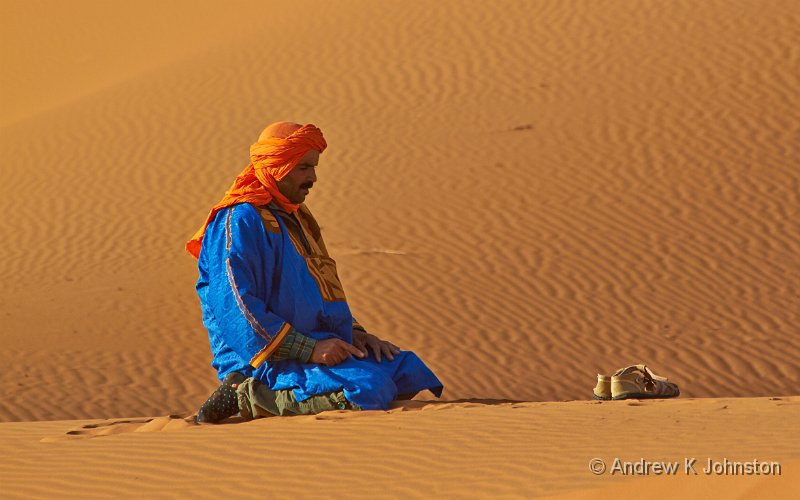 Camera: Canon EOS 7D | Lens: EF70-300mm f/4-5.6 IS USM | Date: 17-11-2013 15:50 | Resolution: 4700 x 2938 | ISO: 200 | Exp. bias: 0 EV | Exp. Time: 1/250s | Aperture: 8.0 | Focal Length: 300.0mm (~486.0mm) | See map | Lens: Canon EF 70-300mm f/4-5.6 IS USM
As a tail piece to my Morocco blog, and as a service to anyone else considering a photo trip there, here are a few notes on what worked, what didn't, and how you might increase your own chance of a successful outcome.
What Worked…
This was the second trip I have done with Lee Frost of Photo Adventures (who also ran my Cuba expedition). He works hard to make sure you have a good time, with a balanced itinerary which gets you and your camera in front of lots of great subjects with a good chance of decent light. He's also a fun and inspiring group leader and tutor. You just have to learn that he will always want "just one more shot" when the customers have all had their fill! Highly recommended.
Lee partners with someone who manages the local logistics, and on this occasion it was his regular co-leader in Morocco, Carolyn Hunt of Journeys Elite. Carolyn is a specialist in tailor-made Moroccan trips, and this reflected in faultless arrangements plus the ability to smoothly handle minor problems and variations. She was also a fun member of the group, and as a photographer in her own right understood our requirements well. Another strong recommendation.
Plumbing and toilets! I had some concern that toilet facilities might be a challenge, but completely needlessly. The Moroccans have a simple system that pretty much every cafe, hotel or other roadside stop has toilets which are freely available to use for a small donation from non-customers. Pretty much without exception these were in good order and spotlessly clean, often well above the standard of the British equivalent. (However, see note about showers in the "didn't" section…)
The roads were all pretty good, well surfaced and with a capacity reasonably matched to the traffic (although I accept that I was seeing this in the low season). However it has to be observed that Moroccan drivers have a nasty habit of not worrying about which side of the road they use until an impact is imminent, and cyclists and moped riders are as much a menace as anywhere. While I would have been fairly comfortable driving outside Marrakech, I couldn't have coped with either the poor signage in the larger towns, frequently only in Arabic, or the amazingly frequent speed traps and police checkpoints. Fortunately we had an excellent driver, Mohammed, who took all this in his stride, and was always happy to help in any way.
Morocco has very good telecoms services. My mobile worked everywhere, even in the middle of the desert. There was also free Wifi at almost every stop, although the speed varied substantially (and was not obviously correlated to distance from a major centre). I did have an odd problem that I couldn't reliably send mail via my own SMTP server, but webmail worked fine.
It makes a welcome change to report that all my camera kit worked reliably and survived, although my Canon gear is going to need a very careful clean after the desert trek (and see note below about batteries).
I'm extremely pleased with the Panasonic GX7. This is the perfect camera for wandering around towns, whether they are packed or abandoned, and for taking high quality photos without the visible and audible imposition of a full-sized DSLR. It also makes brilliant high definition video, even in minimal light. At its limits it may not quite match the speed or the stabilisation of the Canon 7D, but I was not often left wanting. I do need to confirm its higher-ISO capabilities when Capture One support arrives, but the initial indications are good.
I'm also very pleased with the Panasonic Lumix 100-300mm lens. This fist-sized lens is pin-sharp and can pull details out of scenes which would demand major cropping with even huge lenses on full frame or APS-C cameras. It also stabilises well to cope in quite limited light. I now have hand held shots of the Moon filling half the frame, revealing detail which my eyes alone have never seen.
All that said, my Canons also had a key role. It was absolutely the right choice to take the 7D into the desert, where its heavier build and better sealing reduced worries substantially. If your trip covers a similar range you may also need a composite solution. I also used every lens except the "emergency spare" Panasonic 14-42mm zoom. I'm going to write a separate blog about how I might do a similar trip with a single camera system.
Much of the photography was in dark alleys or "open interiors". This is very similar to outdoor photography in slot canyons and similar locations. Light is often best in the middle of the day, but changes rapidly. Inside the Kasbahs it takes on wonderful warm colours after being reflected from different surfaces. However overall light levels will often be low, and be prepared for very high dynamic ranges if you have a mixture of direct and indirect light. I got good use from my wide angle fast prime lens (f/2, 24mm-e), and took HDR bracket sets in several cases.
Morocco is dusty, and even out of the desert keeping optics clean is a challenge. My solution is a sacrificial UV filter for every lens, which I am prepared to replace after the trip. First indications are that I will have to do so for the two "standard zooms", but the others will survive for another day. I have noticed a little vignetting on shots taken with the Canon 15-85mm when I had both UV and polarising filters in place, but this should be fairly easy to fix in the RAW processing, and it looks like the other lenses were fine. I also followed Lee's suggestion to wrap cameras and lenses in plastic bags for the desert trip. There's no way to tell how necessary this was, but it seems like a sensible precaution.
The food was a little repetitive and had a very high bread content (which I like but is not good for my waistline). However it was usually fresh, well cooked and tasty.
Cerberus, my invention to support multiple charging points from a single socket and cable worked very well, although I have realised that it can be further developed to also power my laptop from the same source. I have found a suitable C8 adapter for £3 on eBay, which will improve things further for the next trip.
For Geologging I now use Ultra GPS Logger by Holger Kasten. I have worked with the developer to optimise this excellent piece of software, and the results from this trip seem to be very effective.
French really is the best language with which to interact with the Moroccans. It helps to have the standard pleasantries in Arabic (yes, no, thank you etc.), and you occasionally find someone with usable English, but French is the right solution. Unfortunately mine was very rusty, and only started to work effectively at the end of the trip, but c'est la vie…
What Didn't…
My precautions against the Caliph's Revenge were ineffective. I avoided salads, kept my hands clean, drank only bottled water, and still suffered. My companions were fine. Go figure…
Showers – this is maybe slightly unkind, as every hotel had a device which produced a spray of water, usually at a reasonable temperature. Unfortunately almost without exception the mount on the wall was either absent, broken or, in an impressive display by the most expensive hotel, mounted so high that it both restricted the flow and ensured that what did come out flooded the entire room!
The haggling associated with some activities was unpleasant. It left a bad taste in the mouth to have a good shooting session and then end it with an argument about money. It doesn't help that in the more popular areas some tourists and photographers are being more generous, which is pushing expectations up. Strangely this seemed to be much less of an issue south of the Atlas – whether this was due to a difference in culture or just less tourism is hard to judge.
If possible, try and agree a price for everything beforehand, and be prepared to walk away if the price is not right. I was successful in getting the price I wanted for all my souvenir purchases by this tactic.
Photographically I only had one problem. Both my spare Canon 7D battery and one I borrowed from Lee died very quickly in the cold of the desert nights. It might be significant that they were both cheap 3rd party ones – original Canon batteries and my Panasonic batteries for the GX7 seemed to fare better.
While you don't go on a photographic holiday to lie in every morning, it would be nice to get the odd opportunity, and Lee usually obliges. However Morocco didn't – 24×7 cockerels, mezzuins calling at 5 am and sub-zero temperatures all made their contribution! Oh well…
Conclusion
Morocco is an inspiring feast for the eyes, and a great photographic destination. With some planning, basic preparations and sensible precautions it's not a hard one either. Enjoy it.