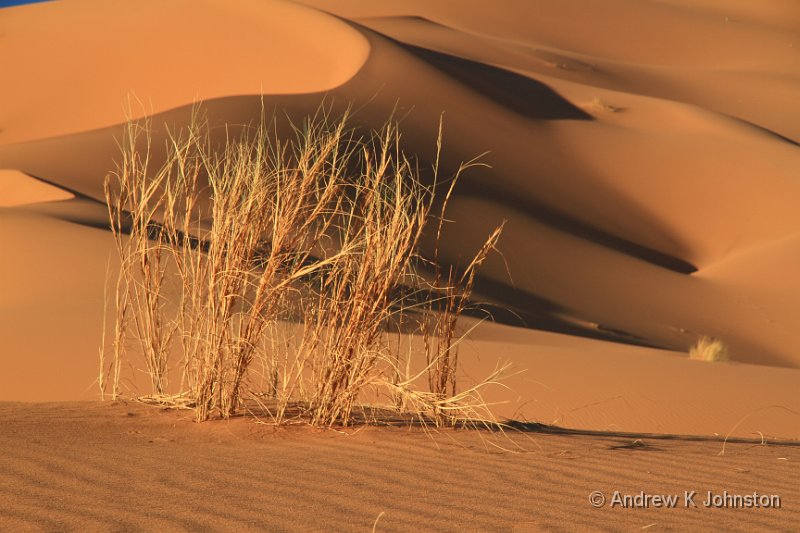 Camera: Canon EOS 7D | Lens: EF-S15-85mm f/3.5-5.6 IS USM | Date: 18-11-2013 16:19 | Resolution: 3456 x 2304 | ISO: 200 | Exp. bias: 0 EV | Exp. Time: 1/100s | Aperture: 11.0 | Focal Length: 85.0mm (~137.7mm) | Lens: Canon EF-S 15-85mm f3.5-5.6 IS USM
The "entertainment" last night is best glossed over – lots of drumming but no real way to distinguish any part from any other – a 10s repeating loop would be much the same.
We woke up to quite a strong wind, kicking up a dust off the dunes. Only limited photo opportunities, and some concern for the trek later in the day. We went up to the local village and wandered around for a while, then had both excellent photography and a very nice lunch (a "berber pizza") at the Nomad Depot, essentially the local carpet emporium. Dick succumbed to the sales speil, and will be going back to Norway two rugs heavier.
After lunch we chucked the kit and ourselves onto 8 camels and set off into the Erg Chebbi, a small "sand sea". Sods Law – after 7 days of cloudless skies we had substantial cloud cover, so battling the light for photography, but at least the wind had dropped. Fate smiled on us with a couple of breaks in the cloud to provide a few decent shots, but no star trails for us tonight!
At the end of the trek, we reached the Berber encampment. Just in case the enormity of this achievement is not appreciated, I should disclose that one of the camel handlers then walked home for the night!
I'm now sitting by a camp fire, with a beer, waiting for dinner, so all's right with the world.
Update, Morning.
Sleep was better than feared, worse than hoped for. During the night the clouds cleared and at one awakening I set the camera up for a star trail set. However as it was a full moon I'm not expecting the best results. We'll see.