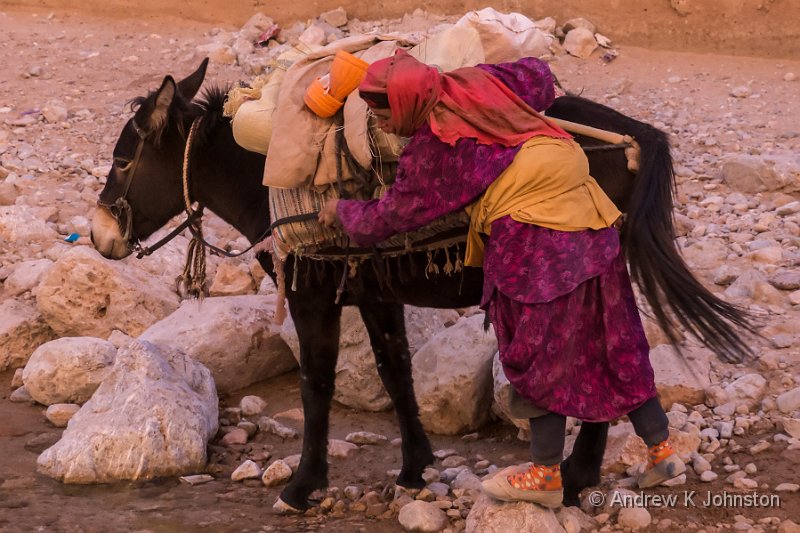 Camera: Panasonic DMC-GX7 | Date: 16-11-2013 11:17 | Resolution: 3596 x 2397 | ISO: 1600 | Exp. bias: -33/100 EV | Exp. Time: 1/160s | Aperture: 6.3 | Focal Length: 122.0mm (~253.0mm) | Lens: LUMIX G VARIO PZ 45-175/F4.0-5.6
We had a dawn start to photograph the town of Tineghir from a panoramic overlook. It's suddenly very cold – not much above freezing first thing. The angle of the light was again a challenge, but I got some good shots of back-lit palm trees and layers of haze.
After breakfast we went a bit further up the Gorge du Todra. The gorge itself is not easy to photograph, but we had good luck with goat-herds bringing their flock to the river, and with the vendors who now line the tourist section. One of those was very hospitable, and happy to pose for us. He then persuaded us to look at the cheches – Arab head scarves – and we all bought one. I went for a very elegant cobalt blue (resisting the temptation of a dramatic orange or pink ;)), and the rest of the group followed suit, so we'll all match in the desert tomorrow.
After that we set out on the road, heading through the Jbel Saghra mountains to Merzouga where we'll head off on camelback into the Sahara. The drive wasn't terribly interesting, but we were treated to a nice sunset over the mountains, and have been promised entertainment with dinner, although that will be for another blog.