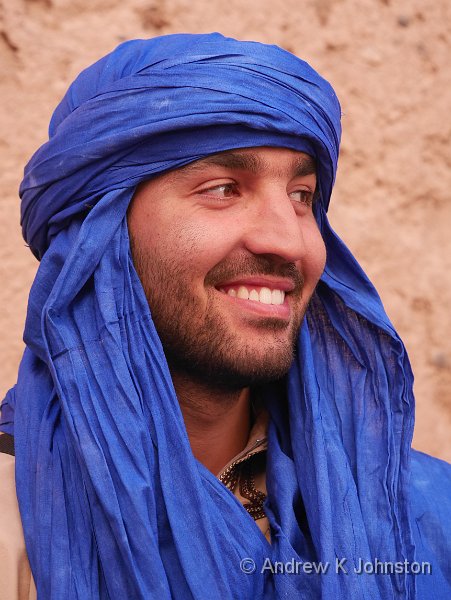 Camera: Panasonic DMC-GX7 | Date: 15-11-2013 13:11 | Resolution: 4592 x 3448 | ISO: 1600 | Exp. bias: 0 EV | Exp. Time: 1/125s | Aperture: 5.0 | Focal Length: 84.0mm (~168.0mm) | Lens: LUMIX G VARIO PZ 45-175/F4.0-5.6
We started the day with a short drive to Ouarzazate (pronounced "was is at") which turned out to have very uncooperative banks: none would cash a travellers cheque, and one even refused to change sterling and dollars into dirhams despite a big "change" sign outside. Fortunately the local Credit Agricole was more helpful, so at least I should have enough cash now.
A few miles up the road we got to Skoura, and visited the Amridil Kasbah. This is a famous kasbah which appears on the 50 dirham note, and has recently been substantially and sensitively renovated. An excellent short photography stop turned into an even better lunch… It's hard work, all this photography.
The kasbah was run by Reda, who not only spoke excellent English, but also turned out to be a mean cook and a handsome model!
After lunch we headed up to the Dades Gorge, and photographed a ruined kasbah in front of interesting rocks. The light was a real challenge, with strong sunlight almost directly into the lens but the subjects in partial shade. I found it difficult to capture what my eyes could see, and these could need even more work than some of the complex interior shots of the last few days.
As I write this we are rattling along over multiple miles of main road which has been stripped ready for resurfacing, which is delaying our arrival at the night's stop in the Todra Gorge. On the positive side the results will probably be worth it – I was only commenting this afternoon how most of the roads have been very good. On the downside it's very dusty and slow in the meantime.
Early start for dawn shoot tomorrow.