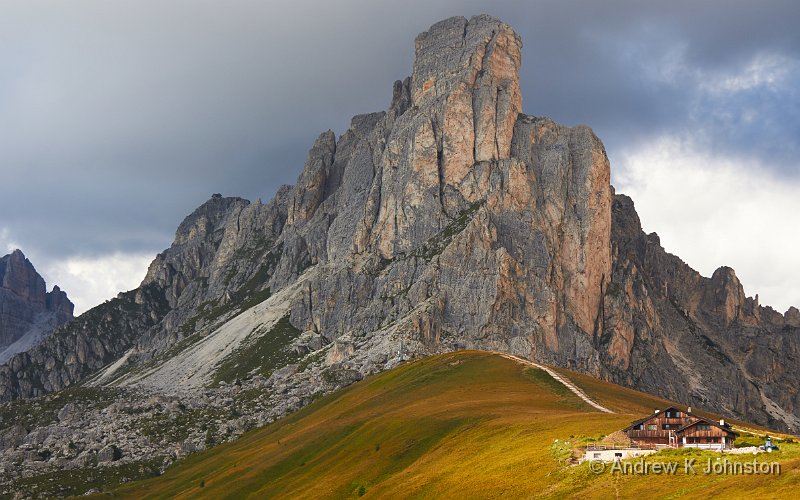 Camera: Canon EOS 550D | Lens: EF-S17-85mm f/4-5.6 IS USM | Date: 05-09-2013 15:07 | Resolution: 4764 x 2977 | ISO: 100 | Exp. bias: 0 EV | Exp. Time: 1/80s | Aperture: 8.0 | Focal Length: 35.0mm (~56.7mm) | Location: Forcella di Giau | State/Province: Veneto | See map | Lens: Canon EF-S 17-85mm f4-5.6 IS USM
Day 6
Started the day with a trip up to the high point above Cortina, Le Tofane at 3244m. Frances opted to stay at the cafe slightly lower, but I took the final cable car and then completed the final scramble to the summit. Superb views looking down into three separate valleys, including several impressive backdrops used in Cliffhanger. I was looking down on rising mist and low cloud, so superb photography.
After lunch we drove up to the lake at Misurina, another strong recommendation from the tourist office. This is a beautiful clear lake surrounded by high mountains, and very photogenic despite the other tourists.
Our plan was to finish the day with the last of the "must do" recommendations, the cable car to the Cinque Torre (5 towers), but we were running too late. However a spot of map reading suggested an interesting substitution – the drive up to and view from the Passo di Santa Lucia. As we arrived the sun was going down and storm clouds gathering, producing fascinating light.
Back to the hotel, and a very good "Gala Meal" well above my previous experience of half board fare. The Francesci Park Hotel gets a very high recommendation.
Food: 8/10
Photography: 9/10
More bloody cyclists: -5/10