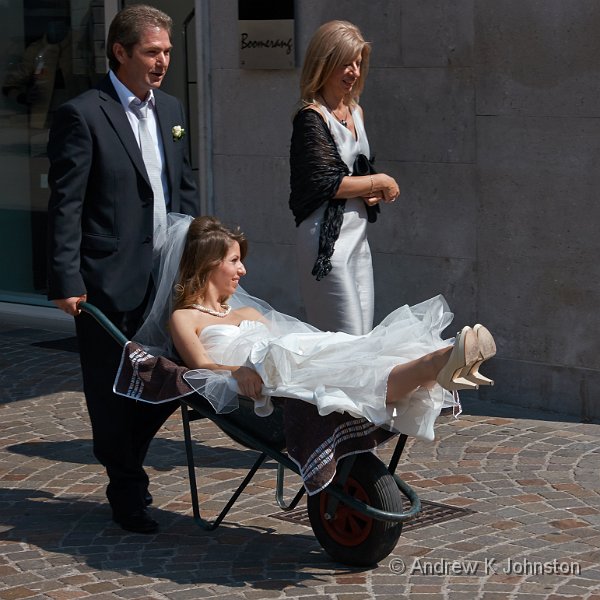 Camera: Panasonic DMC-GH2 | Date: 07-09-2013 12:51 | Resolution: 3084 x 3084 | ISO: 160 | Exp. bias: -66/100 EV | Exp. Time: 1/250s | Aperture: 7.1 | Focal Length: 42.0mm | Location: Bw Hotel Europa | State/Province: Trentino-Alto Adige | See map | Lens: LUMIX G VARIO PZ 14-42/F3.5-5.6
Day 7
A somewhat less exciting day dominated by the long drive down (well strictly up down up down down up down) from Cortina to Torbole on Lake Garda. Lunch at a tiny local pizzeria a mile off the main road, but which sported an international menu in multiple languages including Turkish, Russian and Finnish as well as the predictable English and German.
Alfa's dashboard starts showing a warning symbol. We stop at garage and consult the manual, but cannot identify it. Later Googling returns disconcerting number of matches for "Alfa Romeo dashboard unknown symbol".
Hotel Lago di Garda in Torbole is very modern and pleasant, but car park about 1/2 mile away, and sun deck provides lake view only to those over 6ft or under 2!
Food: 7/10
Hari Kari Motorcyclists: – 5/10
Day 8
Excellent breakfast, probably the best so far with an amazing array of cheeses, hams and fruits.
The north of Lake Garda consists of two towns about a mile apart – Torbole where they keep the tourists (think Blackpool in Italy), and Riva Di Garda where they keep the old buildings and posh shops.
Fortunately it's a pleasant and quite short walk along the shore between them – you just have to dodge the ever-present cyclists.
I finally had a more successful day's shopping. This included the purchase of lilac trousers a size too small, followed immediately by trouser-hostile ice cream.
Nice meal at the hotel, another tasting menu although arguably not up to the standard of Verona or Cortina.
Food: 8/10
Shopping: 7/10
Photography: 7/10 (windsurfers)