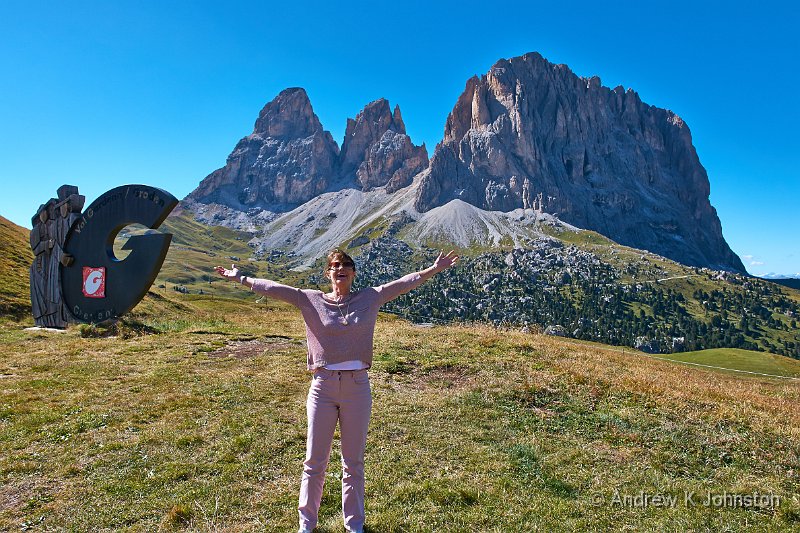 Camera: Panasonic DMC-GH2 | Date: 04-09-2013 15:14 | Resolution: 4752 x 3168 | ISO: 160 | Exp. bias: -66/100 EV | Exp. Time: 1/2500s | Aperture: 3.5 | Focal Length: 12.0mm | Location: Rifugio des Alpes | State/Province: Trentino-Alto Adige | See map | Lens: OLYMPUS M.12mm F2.0
Day 5
Our long drive to Cortina D'Ampezzo started with a gentle drive on the old road to Trento, most remarkable for the very erratic roadsigns showing remaining distance. Warning: the value of your roadsigns may go up as well as down.
We had been lulled into a false sense of security, and the main road through Trento was truly ghastly – two lanes between high, unyielding steel barriers with zero room for manoeuvre either side. The signage was also appalling and we ended up having to cross back over the valley on very small local roads. Fortunately after that we turned off up into the hills and things improved.
Lunch was non-trivial. The first little restaurant we tried wasn't doing food. The second had just been filled by about 100 cyclists. The third was actually the local gourmet restaurant, but they were happy to sell us two courses off their very interesting menu. The venison carpaccio was excellent!
Finally we were into the mountain drive. You can't get to Cortina from the west without doing at least two 2000m+ passes, and our route included three. It was a stunning drive, but sadly on quite busy roads plagued by a menace of vast numbers of cyclists. We think it's bad in Surrey…
We did like the various convoys of cars clearly being driven by owners clubs. The group of black Porsche Carrera GTs was impressive, but the best fun looked like the long convoy of original Fiat 500s, pooping horns at everyone they passed.
Coffee and strudel at a beautiful chalet café at the top of a pass truly excellent.
We finally arrived in Cortina about 6, and went out to look in shops and find dinner. Only when we got back did the hotel receptionist remind us we had paid for half board..
Note to self: if all else fails, read the instructions!
Food: 9/10
Photography: 7/10
Driving: 8/10 apart from the cyclists